US Open 2011: Quotes of the day
Last updated on .From the section Tennis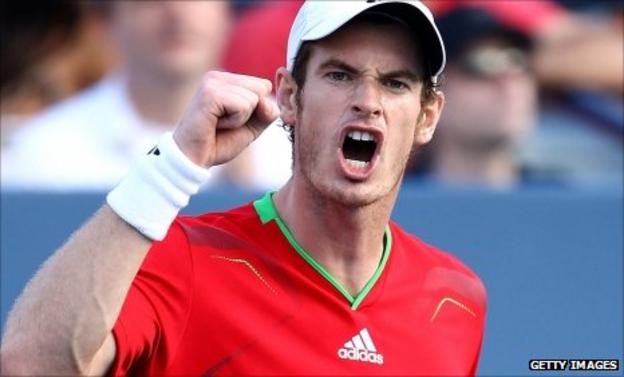 "I'm going to need to play better on Sunday or I'll be going home." Andy Murray is candid about his five-set win over Robin Haase.
"I need to try and make sure I get my emotions right in the next match, make sure I get the crowd involved a bit, show some fist pumps and 'C'mons!' That's what I always did when I was a kid, and that's when I felt like I always moved my best, when I enjoyed playing tennis the most." Murray plans to channel the spirit of Jimmy Connors next time out.
"It's strange that it comes in the night when I just lie down but something just moves into a bad spot and I wake up and have the pain and it's tough for the physios to get it fixed." Haase describes the back injury that blighted his match."
"He's an unbelievable tennis player. He plays the game really smart. He's fit and athletic. He's so good at everything." And Haase has words of praise for the British number one.
"Sporting drama at its best from Murray. Deadline hell at its very worst for brave Brit press pack."Sun correspondent Steve Brenner on Twitter
"Remarkable win for the man." Times correspondent Neil Harman on Twitter.
"Tennis is an incredible sport when you get drama like that, Murray finally winning 64 in fifth. Credit to Haase, he looked dead on his feet." Daily Mail correspondent Mike Dickson.
"Mrs G's faith in Andy Murray was justified! What a breathtaking, high drama match. Credit to Haase too." Murray's ex-coach Brad Gilbert on Twitter
"I'm not going to beat Andy playing from the baseline and waiting for him to miss. I have to be really aggressive, to play my game, and to believe. This is what I have to do." Feliciano Lopez sets out his plan for beating Murray in round three.
"Losing isn't fun for anyone because we work to win. We don't work to try to lose. So when we're faced with a position where we can win and we didn't in the end, it's tough." Maria Sharapova deals with defeat by Flavia Pennetta in the third round.
"I think this one is one of the best victories in my career, and is gonna be like this forever." Pennetta reflects on a good day at the office.
"The people remember the last day when you are with the trophy, when you play fantastic in the final, but to arrive at this moment not everything is roses." Rafael Nadal on his apparent lack of form.
"He called me a little princess and everything. When he was driving off, he was like, 'I expect to hear some big things from you.' That made me sit back like, 'Wow, Pete Sampras just said he expects me to do some big things.'" Donald Young explains how meeting Pete Sampras earlier this year benefited him.
"I don't think anything should change. You know, in my opinion I think Wimbledon is the one tournament that it can go on for a long time, obviously." John Isner, winner of the longest match ever in 2010, does not want the other Grand Slams to adopt the fifth set tie-break.