US Open 2011: Quotes of the day
Last updated on .From the section Tennis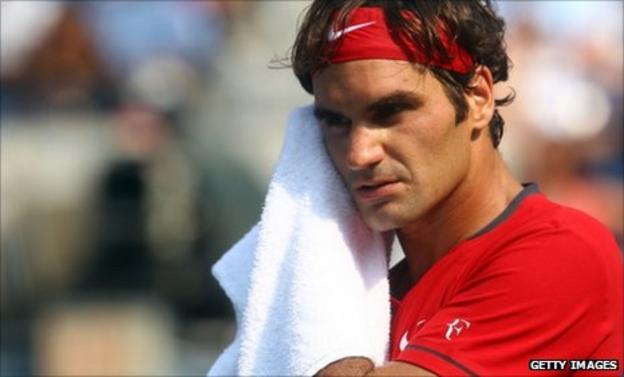 "I'd say 50% of them are unlucky because they're not feeling well or getting injured or carrying an injury." Roger Federer backs nine of the 18 players to have withdrawn from the US Open in the opening six days.
"For me it is shocking to see so many retirements. I have never retired in my whole life, except once when I played against Blake in Paris, but I didn't even walk on to the court. For me, it doesn't matter how bad I'm feeling, I will be out there and giving it a try, because you never know what's going to happen." Federer dishes out some tough love.
"is the 18th pull out in the us open telling the tennis authorities anything?? No?? Thought not..." Andy Murray gives his view on the subject via Twitter.
"It's the first test I had in this tournament and it was expected." World number one Novak Djokovic who, ominously, still beat Nikolay Davydenko for the loss of only nine games.
"Why you always want to know it precisely? I don't even know what it means, so I don't know. Actually, it's a pain in my right shoulder." Tomas Berdych folds under questioning about his injury.
"Definitely. She's playing at a higher level than I've seen her play in a few years." Victoria Azarenka does not have to think twice when asked whether Serena Williams will win the title.
"I definitely wasn't happy with the way I played overall today. I think my serve, especially in the second set, I was below 50%. I was a wee bit disappointed. But I can build on it." Williams sees room for improvement.
"I don't like to say, 'This is my time to shine' or whatever. I know it's overrated and it's a cliché to say because you guys heard it so many times before." Janko Tipsarevic is unlikely to go far in the X-Factor with that attitude.
"He's so smart all the time and he thinks he knows everything. You have to kind of just process the things he's saying and change a few things maybe sometimes." Caroline Wozniacki suffers the familiar problem of a know-it-all brother.
"I think is not a right moment to talk about it. Of course it was difficult for me, because I was playing very well at that moment. But if the captains choose Rafa to play, you know, that's the way it is Davis Cup." Juan Carlos Ferrero on the decision seven years ago to drop him for Rafael Nadal in the Davis Cup final against the USA.
"After Grand Slams I think I sleep for three or four days straight because it's just a lot of stress." Andrea Petkovic is hoping to delay that nap for another week.