US Open 2011: Quotes of the day
Last updated on .From the section Tennis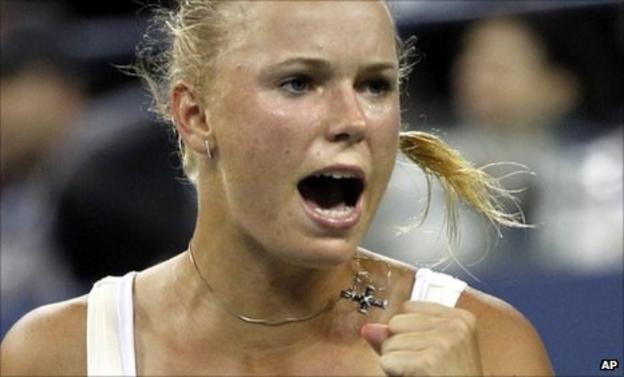 "You have to be ready. I knew I was going to play late and there were all kinds of possibilities that they might move us to another court. As tennis players we're used to it." Roger Federer after securing victory over Juan Monaco at 1.13am.
"He's a tough player. I've had some really good matches against him. They're always a bit crazy, a bit up and down" Federer on his quarter-final opponent Jo-Wilfried Tsonga.
"Last year I played second night match after Rafael Nafal where the night session started late. I came on at around 12am and finished at 1am, so I've been there." Caroline Wozniacki does not feel too guilty for Federer's late start.
"I'm a person that really hates to lose. It's really important for me just to look at the mountain and keep climbing it, not get discouraged." Serena Williams, in case you were in any doubt.
"I don't have any more space. I have a new house in LA. I created a karaoke room, so I can't put trophies in there. The other area, the gentleman's lounge, is kinda packed with vintage things I got at a flea market, which is really cool." Should she win the title in New York, Serena will face a tricky dilemma.
"I think I'd like to say it's a bigger mountain like Everest. It's something you can always reach and achieve whether I'm playing tennis or doing something else." Serena warms to her theme.
"I'm going to say that I don't want to go out there and enjoy just being on centre court playing against Serena. I would like to do well, try to fight, and with my effort I'll try to beat her." Anastasia Pavlyuchenkova is saying all the right things.
"This is one of the longest tie-breaks I ever played. It was certainly exciting to be part of it. But, you know, I knew that I needed to win that set." Novak Djokovic survives four set points and needs six of his own to take the first set tie-break 16-14 against Alexandr Dolgopolov.
"You really need to be a big, big champion in order to really do what you say in press conferences. Because you guys have probably heard it a million times: 'I'm going to focus and give 100% in my next match.' Janko Tipsarevic does not plan to only talk the talk.
"I'm not a fan of laser eye surgery. I'm gonna keep wearing the glasses." Tipsarevic will stick with the shades.
"The past and the life story that we have behind us ...because we have all experienced the war, we have all experienced the tough times back home, struggles to have the right conditions to become a professional player. In the end, those things, when you turn around, make you appreciate life much more. So I think that's an advantage of the mentality." Djokovic on why Serbian tennis is so strong.
"I think Serbians actually have quite a combustible character. Maybe that's good for tennis." Ana Ivanovic has her own theory.