US Open 2011: US Open safety concerns Andy Murray & Rafael Nadal
Last updated on .From the section Tennis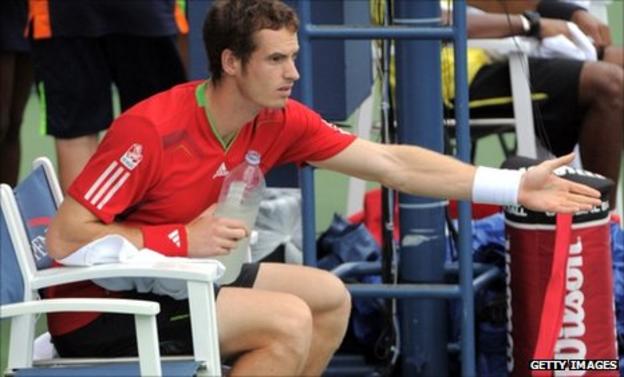 Rafael Nadal and Andy Murray voiced their disapproval after they were among the players sent out to play in damp conditions at the US Open.
Tuesday's entire schedule was lost to rain but after a 90-minute delay on Wednesday play finally began, only for a halt to be called after 16 minutes.
Briton Murray described the courts as "dangerous" and Nadal said he did "not feel protected" by event officials.
All Wednesday's men's matches were later postponed.
Tournament organisers were hopeful that the night session involving all four women's quarter-finals would still take place, but after the players took to the court at 7pm local time they were unable to compete the warm-up before the rain began to fall once again, and play was cancelled for the day.
"It's dangerous, the lines get really slippy," Murray told ESPN. "Players want to play more than anyone, but not when it's dangerous."
Defending champion Nadal said: "Grand Slams is about a lot of money. We're part of the show. They're just working for that, not for us. They know it's still raining and call us onto the court. That's not possible.
"I understand the fans want to see tennis but the health of the players is the most important and we do not feel protected. We want to feel good when we are playing a tournament and we cannot accept these things.
"We have to fight to change things, to have enough power that we don't have to go on court when it's raining. If I have to go on court, I'll go on court, but I don't think it's fair."
Murray and Nadal are among the eight men waiting to complete their fourth-round matches, leaving them behind the likes of Novak Djokovic and Roger Federer, who are already through to the quarter-finals.
British number one Murray managed just three games of his match against Donald Young on the Grandstand court before the weather intervened, with the American leading 2-1 on serve.
Over on the main Arthur Ashe Stadium, second seed Nadal trailed Gilles Muller of Luxembourg 3-0 when play was halted, while former champion Andy Roddick led fifth seed David Ferrer 3-1.
Top seeds Djokovic and Caroline Wozniacki were scheduled to be in quarter-final action during Wednesday's day session.
The night matches on Ashe should have begun with Serena Williams' quarter-final against Anastasia Pavlyuchenkova, followed by Roger Federer against Jo-Wilfried Tsonga, but the weather put paid to the original order of play.
With rain expected all week, the men's final could take place on the third Monday for the fourth successive year.
"I think if it's up for discussion if the court's playable or not, then it's not playable," said Roddick. "Walking out there it was still misting. The back of the courts were still wet.
"We wanted to make it known we didn't want to be put in that position. I certainly understand they need to put tennis on TV, I understand the business side of it as well, but players need to feel comfortable and safe."
In a statement, the United States Tennis Association (USTA) responded: "All parties, including the players and tournament, want to get the US Open back on schedule. As of 12 noon today, the best information available to us indicated the chance of a two-hour window without rain.
"Unfortunately, not all light rain and mist shows up on radar. We have experienced referees, and they decide if courts are fit for play. Conditions may be not ideal, but still can be safe.
"However, if a player or players feel that conditions are unsafe, we listen to them, as we have always done, and the referee uses that information as part of his/her assessment on whether to continue or halt play."