US Open 2011: USTA denies plans to cover two US Open courts
Last updated on .From the section Tennis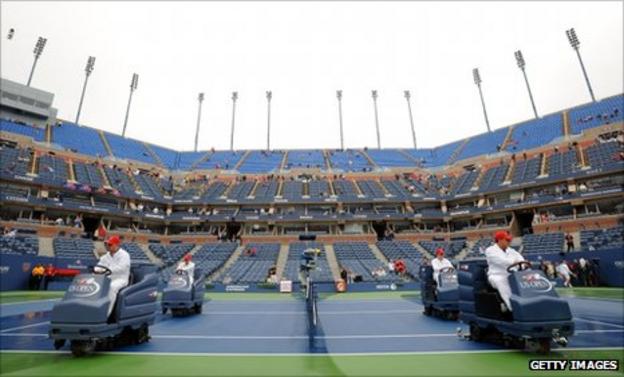 Talk of a plan to reconstruct the two main US Open show courts at Flushing Meadows is 'premature and inaccurate', says the national governing body of tennis in the US.
The tournament is struggling to finish on time for the fourth year in a row after persistent rain in New York.
Jeff Tarango, a member of the USTA board of directors, told BBC Radio 5 live of an imminent plan to remodel Arthur Ashe Stadium on a smaller scale and rebuild Louis Armstrong Stadium, both with retractable roofs.
"It's called the 'strategic vision' and the plans will be showcased and unleashed very shortly," said Tarango.
"We had a quote for rebuilding that just got doubled on us. We have a very good strategic plan for getting the roof. It's a really tough decision but it is in place and all the money is being secured, saved up and taken care of."
However, a United States Tennis Association (USTA) statement said: "The USTA disavows the statements made by USTA board member Jeff Tarango to BBC Radio regarding plans for the demolition of Arthur Ashe Stadium and Louis Armstrong Stadium.
"The USTA is committed to preserving the US Open's status as an elite global sporting event and maintaining and improving the USTA Billie Jean King National Tennis Center as a first class tennis facility.
"However, there has been no scenario discussed that includes the demolition of Arthur Ashe Stadium and any talk about the future of Louis Armstrong Stadium at this point is both premature and inaccurate."
The US Open is currently the only one of the four Grand Slam tournaments without at least provision for a roof, as the French Open has pledged to follow the Australian Open and Wimbledon by building one for the 2016 championships.