US Open 2011: Andy Murray faces 'incredible task' to win US Open
By Jonathan Overend
BBC tennis correspondent at Flushing Meadows
Last updated on .From the section Tennis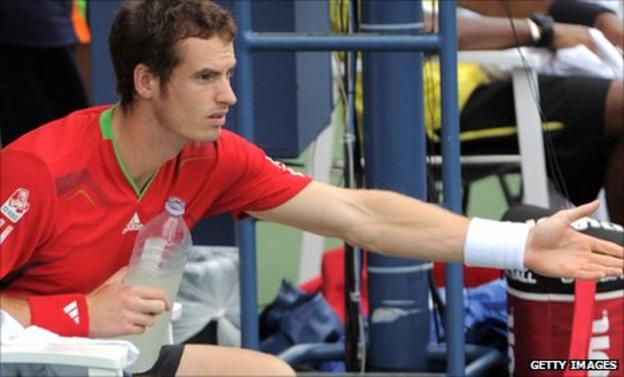 Andy Murray says he faces an "incredible task" to win his first Grand Slam title at the US Open after being left stranded in the fourth round by two days of rain.
Murray managed only three games of his last-16 match with Donald Young on Wednesday as Flushing Meadows was hit by a second successive day of heavy rain.
They will resume at 1600 BST on Thursday and the Briton could now have to play four best-of-five-sets matches in four days if he is to win the tournament.
"It's an incredible task now," Murray told BBC Radio 5 Live. "It's incredibly difficult anyway with the guys who are at the top of the game but there's not a whole lot we can do.
"The days are quite draining. Today, for example, we were told 4.30pm [to play] so we were warming for 4.30pm, then it was 4.45pm - and it's every 15 minutes until 5.30pm.
"So we're warming up, warming up and they're putting it back, putting it back, then we get cancelled at 5.45pm.
"So that whole hour - getting in the right frame of mind, warming up, adrenaline going - it's tough."
Top seed Novak Djokovic and five-time champion Roger Federer are already through to the quarter-finals on the other side of the draw.
after they played for 15 minutes in their respective matches on slippery courts.
"It was still raining when we went out," said Murray. "You can't play on a hard court when it's raining because the lines are so slippy.
"They had towels along the back of the court, it was still soaking wet and the balls were going into puddles.
"The referee said it wasn't in play but, if you chase down a lob or you're pushed back, it is in play.
"They [referees] stand on the court and say it looks all right but, if you try moving at the speed we're moving at and changing direction, it's completely different. It just didn't make sense.
"It's a huge task for everyone on my side of the draw. We want to get on the court and play but we're not going to go on there if it's unsafe."