US Open 2011: Roddick & Ferrer switch courts after water delay
Last updated on .From the section Tennis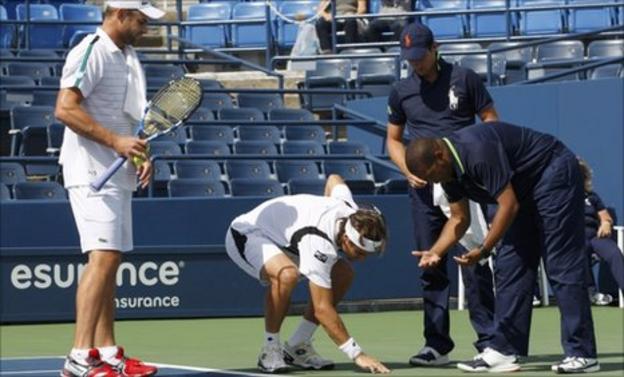 US Open organisers had to switch Andy Roddick's match with David Ferrer to a different court after play was stopped when water seeped through its surface.
Despite sunny conditions, the Louis Armstrong Stadium remained slippery.
A furious Roddick was heard to say: "What are we doing here? It's killing me. I am baffled right now."
After a significant delay, the players resumed their fourth-round match - one of several held over for two days because of heavy rain - on court 13.
Roddick, the 2003 champion, had extended his lead by one game to 4-2 in the first set when he and Spainiard Ferrer were forced off.
After court staff tried to dry up the wet patches behind the baseline, the players were called back to court - but Roddick told tournament referee Brian Earley that the surface was still too wet to play.
The players returned to the changing rooms as staff tried in vain to dry the court with towels and a vacuum cleaner before the match was eventually moved to an outside court with seating for less than 600 spectators.
Outside courts have no provision for line-call challenges, but officials are trying to clear a backlog of matches caused by Tuesday and Wednesday's schedules being washed out by torrential rain.
And 21st seed Roddick put the disruption behind him to beat fifth seed Ferrer 6-3 6-4 3-6 6-3 and set up a quarter-final against defending champion Rafael Nadal.
"I was surprised the second time we got called out," said Roddick. "We walked back there and it was wet.
"I even said it's coming from under. It's not something you can dab a towel on and make it go away. I watched the monitors and they were dabbing towels on it the entire time.
"Then they called us back out, and we walked right over it and it was wet. I could not believe what I was looking at. It puts us in a little bit of an uncomfortable position, too, because obviously we want to play."