US Open 2011: Quotes of the day
Last updated on .From the section Tennis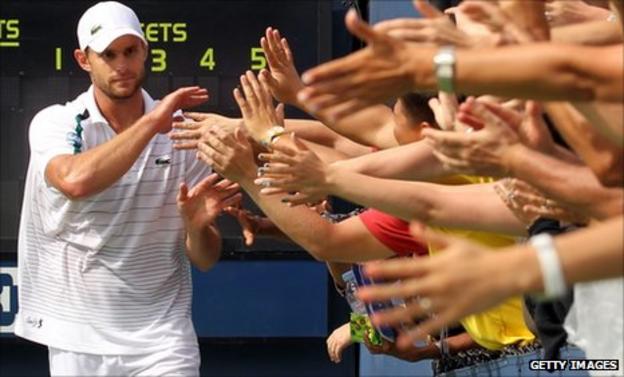 "I'm baffled, I'm baffled. Why are we out here?" Andy Roddick approaches the end of his tether as water seeps through the court on Louis Armstrong Stadium.
"We had some Van Morrison wannabe playing music in the courtyard, so we had a Brown Eyed Girl soundtrack for about two games there. There was a guy scaling the fence in the back for a second. A couple people wanted to do commentary from the service line...." Roddick describes the experience of playing back on an outside court after all these years.
"It was not nice playing on Court 13, but it was nice when you are junior, no?" David Ferrer does not enjoy the Court 13 experience quite as much as Roddick.
"It was a tough day yesterday for the players and the fans who waited many hours. The situation yesterday was not easy for us and the organisers. They tried their best but they were wrong. Everyone makes mistakes." Rafael Nadal gets the chance to put his view of the chaos caused by two days of rain.
"Here in the Grand Slams, if I am in the position of the US Open or Wimbledon or Australia, Roland Garros, I will do the same. Why not?" Nadal is realistic about the commercial needs of the major tournaments.
"I hope it rains tonight, because then everyone is in the same boat. It's clearly an advantage. Anyone that plays sport will tell you that." Andy Murray wants the other half of the draw to suffer his fate of the last few days.
"That's the way it is. You can't fight it. You can't complain. It's Mother Nature that doesn't allow us." Not surprisingly, Novak Djokovic (in the top half of the draw) has a different opinion.
"Because we have the ATP and the ITF, and they don't like each other very much, there's always going to be some issues with Davis Cup, the schedule, the Grand Slams and things like what happened yesterday." Murray dips his toe in the waters of tennis politics.
"It was very hot and humid. I went through 10 shirts. I ran out of shirts. I had to go get somebody to go get me some more shirts." John Isner suffers with damp problems of his own.
"It's true, the Wimbledon match does come back into your mind, especially when he's got break point in the third and you're wondering if it will be like Wimbledon." Roger Federer manages to avenge his Wimbledon five-set defeat by Jo-Wilfried Tsonga.
"It's always nicer to finish them off in less than three hours." Sam Stosur is thankful for a swift win over Vera Zvonareva after a couple of marathon matches.
"I always go out wearing either shoes that cover all my foot or most of it. I'm serious." Serena Williams is asked what lessons she learned from the serious cut to her foot she suffered last year.