US Open 2011: Finals rescheduled and third Monday required
Last updated on .From the section Tennis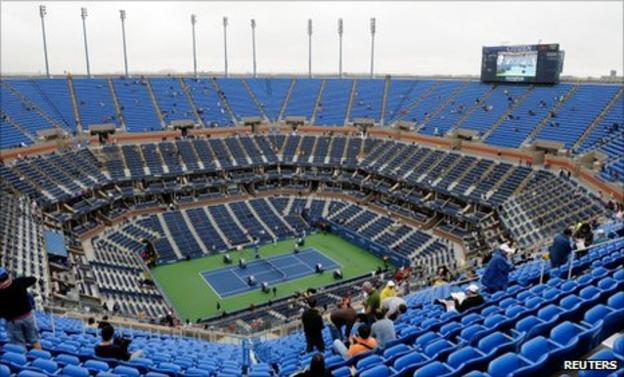 The US Open will extend to a third Monday for the fourth successive year after organisers rescheduled the men's and women's finals.
A number of players were unhappy after rain on Tuesday and Wednesday left them facing a potential backlog of matches.
The women's semi-finals will now take place on Saturday, with the final at 2100 BST on Sunday.
And for the fourth year in a row the men's final has been moved to Monday, with a start time of 2100 BST.
World number one Novak Djokovic said he was unhappy with the change as he is due to play for Serbia in their Davis Cup semi-final against Argentina in Belgrade on Friday.
"I'm not really happy about that, to be honest. I'm not, because there is always Davis Cup the weekend after," said Djokovic after reaching the semi-finals with a four-set win over compatriot Janko Tipsarevic.
"Last year I played finals and finished very late on Monday. Took off Tuesday, arrived Wednesday, and had to play on Friday already, Saturday. How that is possible? It's just too much."
Djokovic is in the opposite half of the draw to Andy Murray and Rafael Nadal, who are yet to play their quarter-final matches and could have potentially played four five-set matches in four days with the final on Sunday.
Speaking before the decision had been made to reschedule the finals, Murray said: "If something happens to a player and the final turns out to be an absolute dead match because someone's so tired, I think it would show up.
"A lot of flaws have shown up, but it would be time to say: 'Look, this is meant to be the biggest match or one of the biggest matches in tennis, and it's messed up because of the schedule.'"
And defending champion Nadal, said: "Having the semi-finals on Saturday is something crazy for the players.
"From our part of the draw it will be a very difficult situation for the player who will be in the final. The semi-finals too, maybe, because two days in a row playing tough matches is difficult.
"The matches, quarter-finals, semi-finals, four rounds of a Grand Slam normally are tough matches. If you don't have rest, you have a big chance not be fit enough to play well in the next match."