US Open 2011: Andy Roddick calls for a players' union
Last updated on .From the section Tennis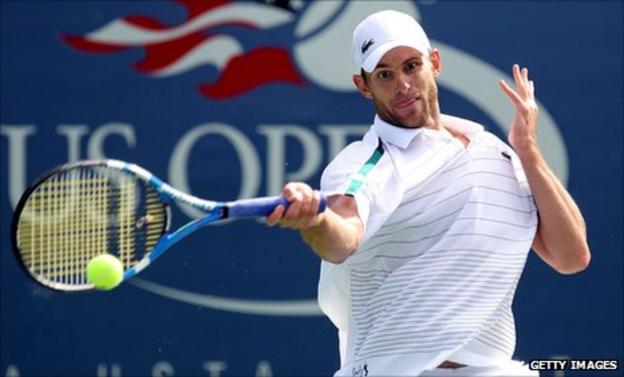 Andy Roddick believes a players' union would prevent some of the problems that have blighted this year's US Open.
Heavy rain, a high water table and poor scheduling have played havoc and mean the bottom half of the men's draw will stay behind the top half.
The final has been moved to Monday, but Roddick believes the players should have a greater voice.
"Until we unite as one voice, then we're not going to get what we want," he said.
"Therefore we don't have the right to complain about it.
"I have been trying to tell people that talent normally wins in negotiations."
Roddick, the 2003 champion, has suffered more than most in the last fortnight with his fourth-round match against David Ferrer being cut short early in the tie because of water seeping through the surface of the court.
The American eventually won in four sets when the match was moved to an outside court with seating for less than 600 spectators and no provision for line-call challenges.
After the fiasco, Roddick says he is happy to step forward and front a players' union in a bid to head off such problems in the future.
"I think you have to have the right person involved who might understand the business side of it," he added.
"You're going to have to have a player who's willing to make some sort of sacrifice.
"At this point in my career, I would jump at the chance to leave the sport in a better position for the players moving forward."
Roddick's proposals have been backed by his quarter-final opponent Rafael Nadal, who is also fed up with the players being at the mercy of the weather and event organisers.
"The problem is not the organisation of the US Open," said the defending champion.
"The problem is we don't have enough power in these kind of tournaments. That's what has to change very soon. I think everybody agrees that these things have to change."