US Open champion Novak Djokovic on brink of best-ever year
By Kerry Wilkinson
BBC Sport
Last updated on .From the section Tennis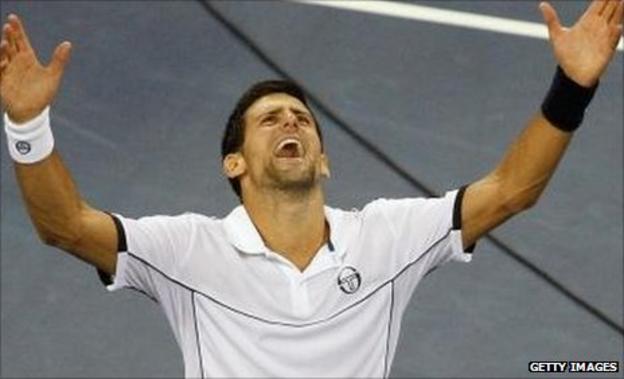 When tennis greats such as John McEnroe, Mats Wilander and Rafael Nadal line up to tell you you're having a season that won't be matched, it's probably time to listen.
The world number one has also won seven other ranking tournaments, while one of only two defeats was down to an injury retirement.
After the US Open victory, McEnroe said: "He bewildered Nadal. I've never seen Nadal look as if he doesn't know what to do and, even on clay in Rome, Djokovic made him look like that.
"Wimbledon was where he separated himself and took himself to a whole new level.
"Djokovic is having the greatest year in the history of our sport."
The American is someone who should know after winning 82 matches in 1984 and losing just three times.
In that year, he won Wimbledon and the US Open, along with 12 other tournaments. He was also victorious in 39 straight matches at the start of the year.
Djokovic, 24, broke that record this year by going 43 games unbeaten, ending with a semi-final loss to Roger Federer in the French Open in May.
But McEnroe believes tennis is harder today than it was 27 years ago. He told the BBC in May: "There is more competition, more athleticism, deeper fields and more depth in the sport.
"So his record is even more impressive than mine."
That view is echoed by Wilander, who won 10 Grand Slams in the 1980s.
The Swede said: "He's jumped up a level. I think this is the very beginning. He may be riding the wave but it's not like the wave is going to end. This is how good he is."
The other extraordinary aspect of Djokovic's run is the standard of competition he is up against. Roger Federer, 30, has won a record 16 Grand Slam titles, while Nadal has 10 Grand Slams and should be hitting his peak at 25.
But Djokovic has dominated both players in 2011, with six wins in six finals over Nadal and four victories in five ties against Federer.
The Serbian went three years from winning his first Grand Slam - the 2008 Australian Open - to January's victory, also in Australia.
The change in fortune is something he puts down to a different attitude. After his latest victory, he said: "I'm more aggressive and I have a different approach to the semi-finals and finals of major events.
"I am not invincible. I just think a positive attitude keeps you on top of your game when you go on court."
Perhaps the biggest indication of his achievement comes from Nadal, who said after the US Open final: "What you did this year is probably impossible to repeat."
Djokovic now has three months to make 2011 the greatest 12 months ever for a tennis player.
First, he is returning to Belgrade to play for Serbia in this weekend's Davis Cup semi-final against Argentina. After that it is the Shanghai Masters in October, where he will again face Federer, Nadal and Andy Murray.
He could also play in the Paris Masters, which he won in 2009, before the World Tour Finals in London at the end of November and a possible Davis Cup World Group final at the start of December.