Serbia fight back against Argentina in Davis Cup semi-final
Last updated on .From the section Tennis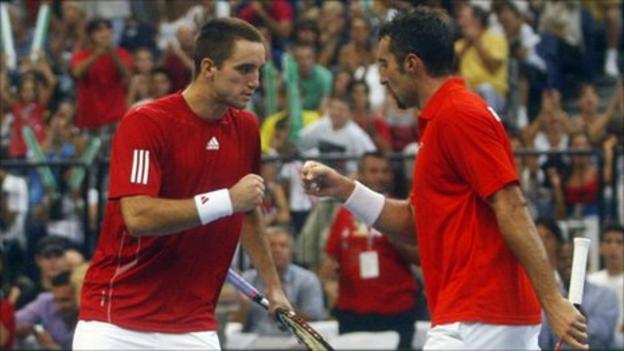 Serbia kept alive their hopes of retaining the Davis Cup with a doubles victory against semi-final opponents Argentina in Belgrade.
Nenad Zimonjic and Viktor Troicki beat Juan Monaco and Juan Ignacio Chela 7-6 (7-4) 6-4 6-2 to leave them trailing 2-1 going into Sunday's singles.
In the other semi, Jo-Wilfried Tsonga and Michael Llodra kept France in contention against Spain, who lead 2-1.
Tsonga and Llodra beat Feliciano Lopez and Fernando Verdasco 6-1 6-2 6-0.
The French pair converted a break point at their first opportunity and never looking back as both Lopez and Verdasco struggled with their serve throughout.
Six-time finalists Spain, who held a 2-0 lead after Friday's singles matches, are still favourites to reach the final.
World number two Rafael Nadal, who has complained of tiredness after his US Open final defeat to Novak Djokovic, is due to take on Gilles Simon while David Ferrer is set to face Richard Gasquet.
Tsonga, who sat out Friday's matches, is keen to take Simon's place as France bid to reach a second final in a row.
The Frenchman has beaten Nadal twice in seven matches, although the pair have never met on clay.
"If he [captain Guy Forget] picks me that would be the fantastic," Tsonga said. "I am motivated to go and play if I get picked. If I play I am sure I will certainly play against Rafa in this incredible environment and on the clay - I would really like that."
"I know Jo is fresh and it's a very strong possibility I will call on him," Forget said. "We'll talk about it later."
Serbia will be hoping that Djokovic, who pulled out of his opening match against David Nalbandian with lower back and rib pain, will be fit for Sunday's opening clash with Juan Martin Del Potro.
Meanwhile, International Tennis Federation chief Francesco Ricci said Nadal was wrong to claim the gruelling tennis schedule was damaging players's welfare.
Nadal had even hinted at a players strike in protest at a calendar which required him to play in the Davis Cup just four days after losing in New York.
"I have the deepest respect for Nadal but to accuse the Davis Cup of putting players' physical well-being at stake is incomprehensible," said Ricci.
"Why doesn't Nadal address his complaints to the ATP which controls 90 percent of the calendar when we control just a few weeks?
"It is not acceptable to us to relax the Davis Cup calendar. The players already play less than two weeks of Davis Cup each year."