Davis Cup: Novak Djokovic retires as Argentina beat Serbia to reach final
Last updated on .From the section Tennis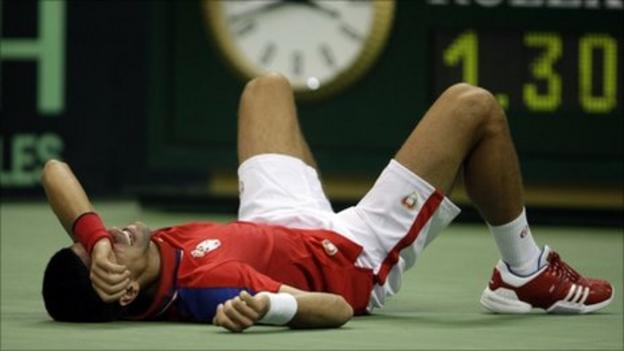 Serbia's Novak Djokovic retired from his Davis Cup semi-final singles match against Juan Martin del Potro through injury, giving Argentina a 3-1 win.
The US Open champion missed the opening singles matches for the Davis Cup holders with back pain but was named to play in Sunday's reverse singles.
But the world number one pulled out while trailing 6-7 0-3.
Argentina will now travel to Spain for December's final after Rafael Nadal helped wrap up a 4-1 win over France.
Djokovic, who returned home immediately after his US Open victory on Monday, regularly stretched his back during the match.
After the first point in the third game of the second set, he fell to the ground and was unable to continue.
After he was helped to the bench by captain Bogdan Obradovic and his team mates, a tearful Djokovic embraced Del Potro and received a standing ovation from the 18,000 home crowd in the Belgrade Arena.
After having the injury assessed Djokovic said: "It is not as serious as we have thought. It's a partial rupture of a back muscle that deserves rest."
He is scheduled to play at the China Open, which starts on 3 October, then the Shanghai Masters the following week.
"I hope I will recover by then. Anyway, I won't risk the worsening of the injury and that's why it is hard to predict for how long I will rest.
"I carried the injury since the U.S. Open. It gradually got worse through the tournament, and I felt sharp pain in the finals."
In Cordoba in Spain, Nadal, who had complained of tiredness earlier in the week, showed no ill-effects with a 6-0 6-2 6-4 win over Jo-Wilfried Tsonga.
The world number two was originally set to face Gilles Simon in the fourth rubber, but after Simon's loss to David Ferrer on Friday and Tsonga's comprehensive doubles win with partner Michael Llodra, Tsonga was given the challenge of beating the Mallorcan.
But it all started badly for him when Nadal swept to the first set in just 35 minutes and as Tsonga struggled on the clay in Cordoba, Nadal pushed forward his advantage to win.
Fernando Verdasco completed the rout for the hosts when he beat Richard Gasquet 6-2, 6-1 in the final dead rubber.
"I'm very happy for the country and for the team," Spain team captain Albert Costa said afterwards.
"Today Rafa played a really unbelievable match and I knew today was going to be very tough.
"He played so deep, so long with a lot of power, serving good and returning everything. When this guy plays good on clay he's unbelievable.
"A semi-final against France is never easy so I'm very proud about this team, they're great players."