Michael Stich criticises strike talk from Andy Murray
Last updated on .From the section Tennis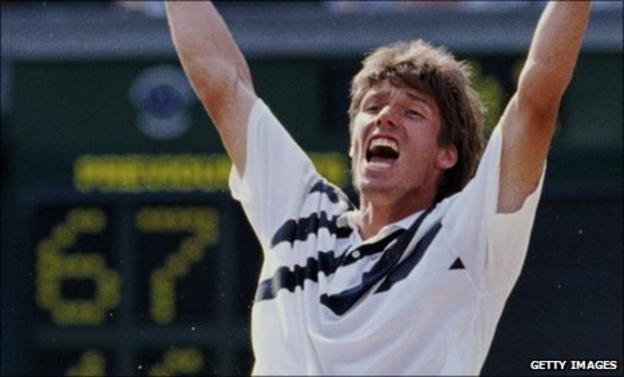 Former world number two Michael Stich has criticised suggestions from Andy Murray that tennis players could strike over what they consider to be an overcrowded schedule.
"These tournaments provide them with jobs and an income," the 1991 Wimbledon champion told BBC Radio 5 live.
"I don't think the complaint is a good one. I didn't complain - and I played in tournament singles and doubles."
Former British tennis chief David Felgate believes strikes are unlikely.
On Monday, Murray told BBC Sport: "We just want things to change, really small things. Two or three weeks during the year, a few less tournaments each year, which I don't think is unreasonable."
But Stich said the bodies that govern tennis - and the tournaments that make up its calendar - support its professionals.
The German added: "I don't think it is a big issue. They are not playing more than we did 10 or 15 years ago and they have shorter seasons than we used to.
"When people like Stefan Edberg played in singles and doubles at Grand Slams, they [just] did their job. Andy Murray doesn't even play four rounds of Davis Cup each year.
"It's not down to the tournaments and the ATP [Association of Tennis Professionals], it's down to the players themselves. Perhaps they need to look out for their bodies and pick their tournaments better?"
Stich, who said he sits on the board of some tournaments, added: "They should never forget this is a partnership.
"If they were to go on strike, they should think what would happen if the tournaments went on strike. They would have no career, no income, no profession. It [striking] is not a good solution."
David Lloyd, the former Great Britain Davis Cup captain, is unimpressed by Murray's talk of a strike.
Lloyd said: "I find it an incredible statement. They are making absolute fortunes.
"Normally, you strike because you are not getting enough money or your place of work is not good enough. They play all the best places in the world, they get picked up by Rolls Royces at the airport, they stay at 10-star hotels and get paid a fortune.
"So I am not sure what part of the normal reasons to strike are there. To say we are going to get round the table to try to sort out the calendar is different. I think it is a scandalous thing to say.
"I have no sympathy for the players. They can play 19 weeks and make £10m or play 20 weeks and make £20m. An extra £10m, I don't really think that is a big problem to be honest."
Felgate - the former performance director at the Lawn Tennis Association, who has also sat on the performance board at the ATP - stressed that discontent from players over the schedule was an ongoing story.
He said: "I don't think we'll see a strike, certainly not from the Grand Slams. The guys aren't about to miss them.
"The biggest issue is where the Davis Cup falls after a Grand Slam - what we saw the guys having to do last week.
"The majority of players quite like those matches a week after [a Grand Slam] because most of them have lost halfway through. It is a problem.
"I don't know [what can change]. The conversation has gone on for years. There are so many factions. There's the ITF [International Tennis Federation], the four Grand Slams - who are all separate entities - then the ATP.
"You would hope they could all get together to sort it out but it's a cyclical story that just continues.
"The difficulty is, a lot of these tournaments are owned by people - you can't just shut them down. They would have to be bought and taken off the tour to create more space."