Martina Navratilova backs Andy Murray strike talk
Last updated on .From the section Tennis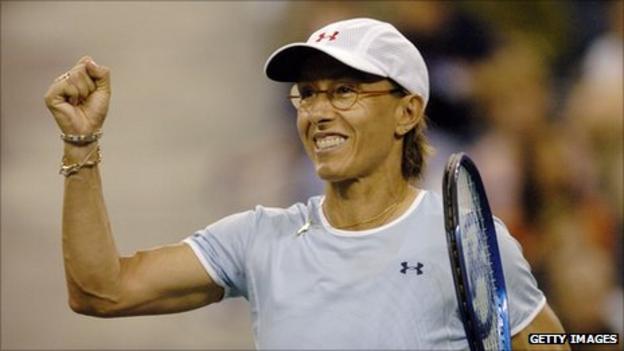 Martina Navratilova has defended Andy Murray after he said players are not afraid of striking over their crowded schedule.
The 18-time Grand Slam singles champion agrees that players should consider action because of the packed calendar.
She told the BBC: "You cannot maintain that level of intensity and not put your body in hospital eventually.
"I don't know why Andy Murray should be criticised for taking charge of his life."
Regarding the potential for strike action, she added: "If that's the only way they can get to that point, then that's what they have to do if they can unify themselves enough and that's the last resort.
"Of course all tennis players want to play. That's what you train for. But I was complaining about the calendar being too long 25 years ago, saying we need to shorten it.
"We have shortened it on the women's side. Women play about a month less than the guys. But now, especially with the Davis Cup and the top players being involved in the Davis Cup, for a [Rafael] Nadal or a [Novak] Djokovic or a [Roger] Federer, then that schedule is just untenable. We are talking about longevity."
Navratilova managed to balance a tough singles and doubles programme when she starred in the women's game after winning her first Grand Slam singles title at Wimbledon in 1978. But the Prague-born American concedes that the modern era is even more demanding.
She said: "I made my own schedule but I was very lucky with a very good body and I worked very hard at it. But nowadays players travel much more than we did. The schedule is more spread out over the whole world.
"They are playing on hard surfaces with metal racquets and everybody hits the ball harder. It's definitely more taxing on the body.
"It's too much. The players are the only ones who are suffering. You have one body and one career and you want to make the most of it."
Navratilova added that a strike threat would be effective.
"Without the top players, you've got nothing," she commented. "If they band together like that, the powers-that-be have to talk to them and listen to them. They have been complaining about the long schedule for a long time and it seems nothing has really happened.
"We are the only sport in the world that does not have an off-season. It's crazy. You cannot do that year after year."