No decision yet on whether to retire - Dinara Safina
Last updated on .From the section Tennis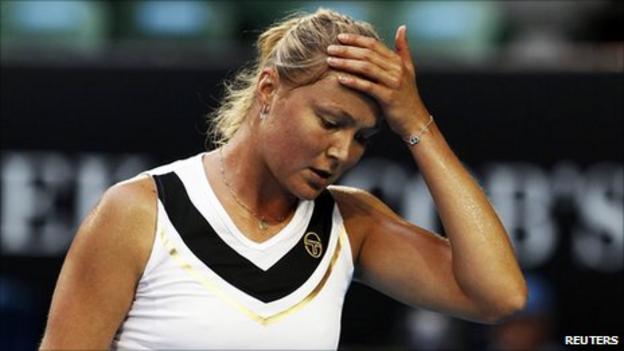 Former world number one Dinara Safina says she has not yet made a decision on whether to retire from tennis.
Her elder brother Marat had earlier been quoted as saying that she had been forced to quit largely because of a chronic back injury.
"I didn't make any official announcement. Give me please some time and I'll let you know," Safina said.
The 25-year-old won a silver medal for Russia at the Beijing Olympics and made three Grand Slam singles finals.
Safina, who last competed back in April in Madrid, added on Twitter: "Right now I want to take care of my back. On Tuesday I am having treatment.
"Once I decide something you'll be the first to know I promise."
Her brother had earlier been quoted as saying said: "She has taken the decision relatively well. She considers it just to be the end of a period in her life.
"Everything is alright with her health. She feels good in everyday life, but [the back injury means] she simply can't play tennis professionally any more."
The Russian has won 12 singles and nine doubles WTA titles and despite the disappointment of never winning a Grand Slam or Olympic title to date, Safina climbed to the top of the women's rankings in April 2009 before persistent back problems saw her begin to struggle.
In August she said she would not play again this year and by the end of the year she had dropped to 62 in the rankings.
This season she was beaten in the first round of the Australian Open 6-0 6-0 by Kim Clijsters and missed the remaining three Grand Slam events, leaving a 2007 doubles win at the US Open as her only major tournament success.