Murray calls for more accessible tennis
By David McDaid
BBC Scotland
Last updated on .From the section Tennis
It was the middle of September, but this was something I had really only ever witnessed in early July during Wimbledon.
Lots of kids in a public park, racquet in hand, knocking tennis balls about.
The occasion was the official opening of Scotland's newest free tennis courts at Brodie Park in Paisley.
The Lawn Tennis Association had splashed £160,000 to resurface the five courts, which had fallen into a dilapidated state.
Tennis is a sport which, right now, Scotland can genuinely claim to be good at, given that the best British man and woman, as well as two top doubles players are from here.
In fact, with his status as one of the world's best players, Andy Murray is Scotland's highest-profile sports star.
The Dunblane man has reached three-time Grand Slam finals, and the semi-final of every major this year.
For all the exposure that brings, participation numbers among children still show tennis to rank 16th in the list of school extra-curricular activities.
Football is by far and away the top sport despite the Scottish national team failing to make a major tournament finals since 1998.
That is too long ago for most pupils to even remember.
Yet, fewer kids in schools are playing tennis than doing cheerleading.
"It kind of makes you wonder what's going on," Murray told BBC Scotland.
"It's a great sport so I would love for more kids to get involved.
"But sometimes I think in the whole of the UK it's maybe not the most accessible sport.
"That's something I think the authorities, the government - whoever - just need to make sure that it is more accessible.
"We just need more public courts, more racquets and balls available.
"Because it's not like football or rugby where you can just get a grass field and play.
"You've got to have nets, you've got to have lines and it's not the cheapest sport.
"The only way for us to become more successful is if more kids are playing and we have more guys playing right at the top of the game.
"I hope that in Scotland I might have helped with that a little bit.
"But it's not only my job to represent the sport. It's many other people's as well."
Tennis Scotland and the LTA have done work to increase the number of junior players competing in six or more competitive matches.
But what constitutes a single match can be as short as a seven-point mini-tennis tie-breaker, or as long as three full sets.
David Marshall, chief executive of TennisScotland accepts that more needs to be done, but he is confident we will start to see the results before too long.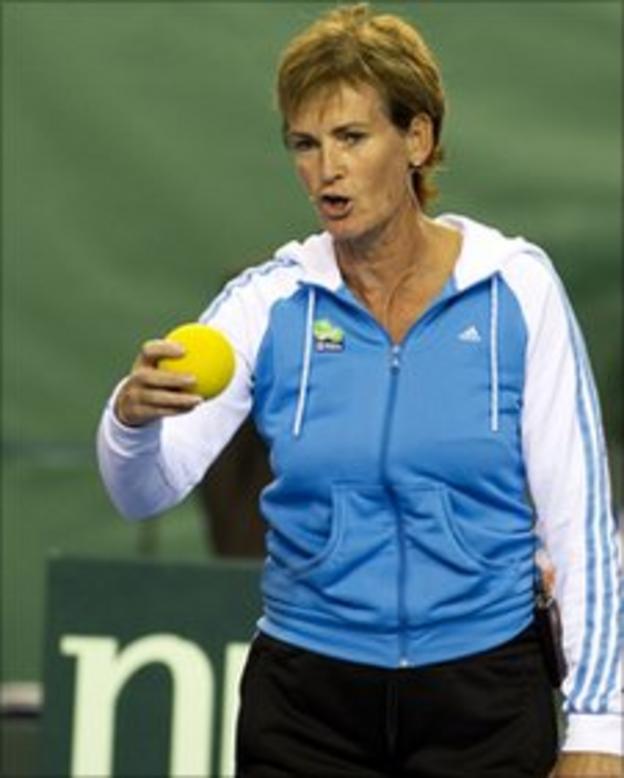 "I think we've got to work a bit harder to get children having a taste of tennis in the playground and then move them onto full-size courts," said Marshall.
"But we are working on it and there has been a huge amount of activity in the schools and I would say the numbers would increase significantly over the next couple of years."
Murray's mother, Judy, herself a former Scottish national tennis coach, believes it is imperative that the most is made of Scotland's standing in the sport to ensure its future health here.
"We could create a really strong tennis nation, if we start now and increase the number of facilities and the number of coaches," she said.
Facilities is a particular passion of Judy Murray's. She believes that the whole of the country's potential is not being harnessed because of a lack of easily accessible indoor courts.
"Most of what the work with the 'good' kids is done in the central belt because there simply aren't indoor facilities further afield.
"There's nothing in the Highlands, there's nothing in the Borders, there's nothing in the south-west.
"If a child is to become excellent, or have a chance to become excellent, then they need to be able to play 12 months of the year.
"So those kids who live too far away from an indoor court makes it very, very difficult and very, very expensive."
But, again, there would appear to be encouraging news on that front from TennisScotland.
"We've got what we call a facilities gap for indoor courts," admitted Marshall.
"if you live in Inverness you have to travel to either Aberdeen or Stirling, so that's a major journey
"But right now we've got three or four projects ongoing.
"The indoor courts are very expensive and there are financial restraints for everybody right now.
"We need partners to engage with us in that, but the fact is we are willing to invest so hopefully over the next couple of years we'll see some major indoor projects as well.
"There's a lot to do but we are working on it."