Greg Rusedski sees bright future for British tennis
Last updated on .From the section Tennis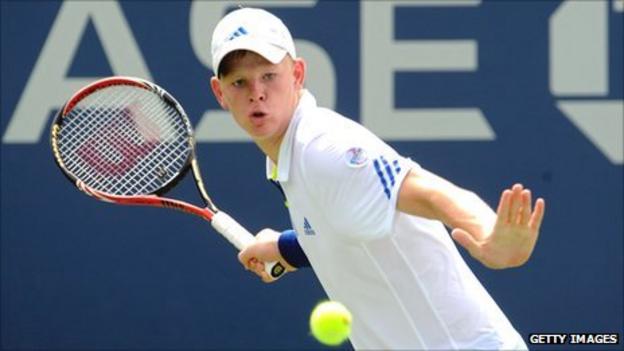 Captain Greg Rusedski believes British tennis has a bright future following his young side's maiden triumph in the Junior Davis Cup on Sunday.
The team of Evan Hoyt, Kyle Edmund and Luke Bambridge justified their top seeding in the event in Mexico by beating Italy in the final.
"We're starting to have depth in numbers and our players are playing better," said Rusedski.
"There is a lot to look forward to in the future."
Canada-born Rusedski, who represented Britain in the Davis Cup during a playing career that saw him reach number four in the world rankings, added to BBC Sport's Jonathan Overend: "The team has been fantastic. We've got three outstanding juniors in Kyle, Luke and Evan.
"And we've got Ollie Golding, who won the junior US Open, in which three of the four semi-finalists were British. Things are looking very good at the moment.
"All three of the Davis Cup boys are very clever and they have the right idea on the court. They have good coaches behind them, a good support team and also great backing from their parents. They are all hungry to succeed and they realise this is a stepping stone to being professional one day.
"They all physically strong, they're all above six foot. And If you have the combination of physical and mental then the future can be bright."
Despite Britain's success in Mexico with victory over Italy, following preceding wins in the group stage against Thailand, Germany and Canada before beating France in the semis, Rusedski has also identified areas his team need to improve and has been pleased by their eagerness to do so.
"I watch the boys and I write reports on them and there are always areas to improve," conceded Rusedski. "They always like to get better and they value the constructive criticism. Even if you are at the top of the game like [world number one Novak] Djokovic you have to want to get better.
"If you look at [British number one] Andy Murray, he is an exceptional player, who by the time he was 19 was in the top 10 in the world. But if you look at the guys in the top 100 its usual between the ages of 23 and 25.
"The young British guys are on the right track. We've always had one or two players with potential but now with have 6 or 10 who are all playing well and could make it into the top 100 in the world.
Rusedski also feels he is the right man to help the young players develop, having gained a wealth of experience during his playing days.
"I think I can help because of my perspective. I know what it takes to make it on tour," said Rusedski. "I can help them in difficult situations, keep them motivated, give them the right game plan.
"What's good to see is they are all implementing strategies on the court and showing the right mental attitude. The mind is one the keys to being a great tennis player."
"I'm really enjoying my role. This year has been magical for us. I've been very lucky to have a career in tennis and I enjoy giving something back to the game, especially in Britain. One of my roles is to change the perception where others don't want to have to face British players."