Andy Roddick backs move to reduce playing schedule
Last updated on .From the section Tennis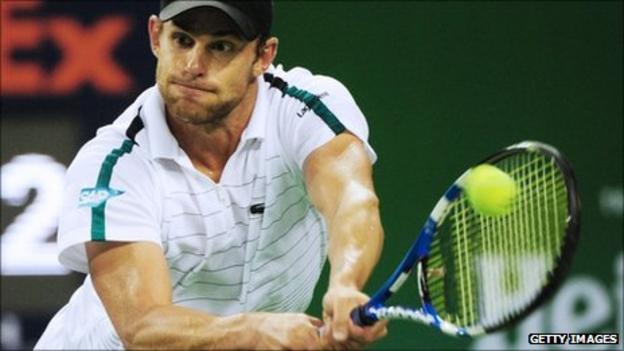 Andy Roddick has backed the call to reduce players' punishing schedules after Novak Djokovic and Roger Federer pulled out of the Shanghai Masters.
American Roddick was eager to stress that the issue is not about money but relates to concerns over burn-out.
"I don't think we're storming offices, but the sentiment is there," Roddick said of the strength of feeling.
Former world number one Roddick spoke out after beating Taiwan's Lu Yen-hsun 6-2 3-6 6-2 in the first round in China.
"People have to understand, people act like we pull out [of tournaments] and we get something [payment] out of it," he continued.
"We don't get anything. They [Djokovic and Federer] are out of the bonus pool now. They don't get their money this week.
"Obviously, if they were feeling well and they weren't worn down, then they would [play]. We're not getting away with anything by pulling out of tournaments.
"I feel like that's the way it's presented sometimes. That's just not the case."
Roddick also raised the issue of the earnings of players lower down the rankings when compared with other sports, and the demanding schedule they are obliged to play to maintain them.
"If we're getting selfish about it, I think players get 13% of total revenue, something like that, from the US Open, and the NBA is at a crossroads because they're going to have to go from 57% to 50%.
"That's an alarming number.
"That's not the be all and end all. I think we all feel very fortunate for what we get, but we are putting people in seats.
"We're spoiled. We're lucky. We get it. There's nobody complaining about anything. But if you look at, I said it the other day, the guy on [golf's] PGA Tour [Bill Haas] just won $11.5m [£7.3m]."
Comparing the all-time earnings of tennis players with the prize money from a one-off golf tournament, Roddick added: "I think 15th on the all-time ATP career prize money list was $14m [£8.95m]."
The ATP say it has tried to shorten the season over the last few years and that two weeks have been saved from the 2012 season calendar.
Murray, the defending champion, and world number two Rafael Nadal both have first-round byes in Shanghai.