US Open could switch men's final day to Monday
Last updated on .From the section Tennis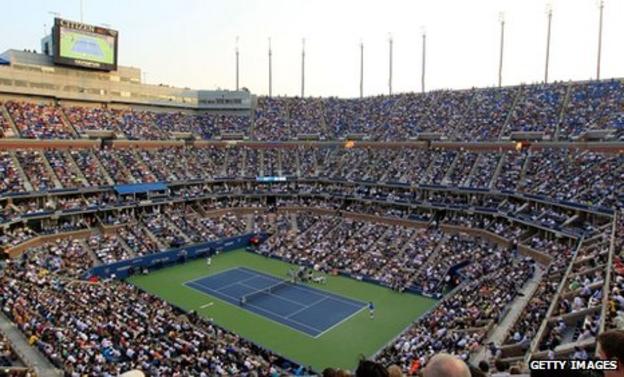 The US Open could become the first Grand Slam to switch permanently to a Monday finish.
The option is being considered after calls from top players for a day off between the semis and the final.
The last four men's finals have been postponed through rain and five-times champion Roger Federer said: "It's the right move for our sport.
"I am pleased that the USTA is listening to the players, and I am very encouraged with these developments."
The US Tennis Association has started talks with broadcaster CBS and tournament director Jim Curley said: "We're just getting into this process and right now everything is on the table."
In last month's final at Flushing Meadow, Novak Djokovic had to wait until Monday to beat Rafael Nadal after the tournament was disrupted by heavy rain.
Britain's world number three Andy Murray, who reached the semi-final at Flushing Meadow before losing to Nadal, has suggested that the players might support strike action over the crowded calender.
And there have since been calls for a summit meeting the thrash out the players' grievances.
Murray criticised the US Open scheduling at the time, saying: "If something happens to a player and the final turns out to be an absolute dead match because someone's so tired, I think it would show up.
"A lot of flaws have shown up, but it would be time to say: 'This is meant to be the biggest match or one of the biggest matches in tennis, and it's messed up because of the schedule.'"
One proposal is to move the men's final from Sunday to Monday and the women's final from Saturday night to Sunday afternoon.
Another move could be to switch the men's semi-final to Friday and keep the final in its traditional Sunday afternoon spot.
At the US Open, two men's semi-finals and the women's final are all played on "Super Saturday" followed by the men's final on Sunday.
The three other Grand Slams ­- Wimbledon, the French Open and the Australian Open - hold the women's semi-finals on Thursday, the men's semi-finals on Friday, the women's final on Saturday and the men's final on Sunday.
A decision must be made by April if there is to be a change in 2012 and Curley added: "It might not happen in '12. It might happen in '13. I just want to be clear that the goal is to get this done."