Caroline Wozniacki aims to finish 2011 as number one at WTA Championships
Last updated on .From the section Tennis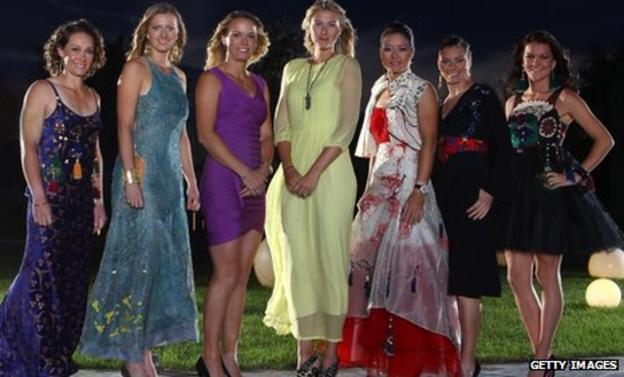 Caroline Wozniacki will try to secure the year-end world number one ranking at the WTA Championships, which begin in Istanbul on Tuesday.
Wozniacki must win the title, or reach the final with with two or more round-robin wins, to guarantee the top spot.
The Dane has been drawn with Petra Kvitova, Vera Zvonareva and Agnieszka Radwanska in the red group.
Maria Sharapova, Victoria Azarenka, Li Na and Sam Stosur complete the line-up in the white group.
"Of course when you've been number one the whole year, you'd like to finish the last week as number one as well," said Wozniacki.
"That would mean a lot to me since not a lot of people have finished the year two times in a row as number one."
Former world number one Sharapova is Wozniacki's closest challenger in the rankings but the Russian must at least reach the final to have a chance of finishing the year as number one.
Kvitova and Azarenka also have a mathematical chance of finishing in top spot, but both would require Wozniacki not to win a match and other results to go their way.
Sharapova has recovered from the ankle injury she suffered in Tokyo last month and takes her place in the end-of-season showpiece for the first time since 2007, a serious shoulder problem having disrupted her career in recent years.
"It's tough to talk about [number one] coming off the injury in Tokyo and not even knowing if I'd be able to compete for the rest of the year," said the 24-year-old.
"I think I'm just fortunate enough to say that I'm here and I'm going to be competing. That, to me, is a big accomplishment by itself.
"So whether it's number one or number two, whatever it is, I'm very pleased that I made it here and that I have a chance to compete and do well."
Sharapova added: "The last couple of years at this time I was sipping a margarita on the beach and now I have another tournament, so I'm quite excited about it."
The tournament, for the top eight players in the WTA rankings, is taking place in Istanbul for the first time after being hosted in Doha for the past three years.
Wozniacki, 21, finished runner-up to Kim Clijsters last year but the Belgian is absent this time through injury, while former champions Venus and Serena Williams no longer rank highly enough to qualify.
Meanwhile, WTA chief executive and chairman, Stacey Allaster, has had her contract extended for an additional five years through to 2017. The Canadian took up the post in 2009.