London 2012: Olympics top of Elena Baltacha agenda
Last updated on .From the section Tennis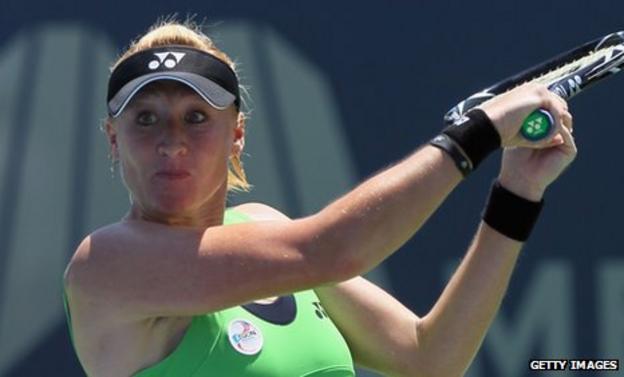 World number 50 Elena Baltacha has made qualification for the London Olympic Games her priority for 2012.
The world's top 56 players automatically qualify but each nation is limited to four competitors.
"You know what? I'm so excited by the Olympics," the 28-year-old British number one told BBC Radio Suffolk.
"It's my dream to make the cut. I know I'll probably have to be about 65 to get entry and that's my goal for next year, to achieve that."
As well as the top 56, the International Tennis Federation Olympic committee will then select six ITF places, the equivalent of wild cards.
Ipswich-based Baltacha added: "I think it will be amazing to be part of it, to meet the other athletes and see how they work," she added. "It's going to be such a great learning curve."
She has labelled 2011 the best year of her career and puts that down to a noticeable improvement on clay.
She displayed her progress on the surface by reaching for the first time.
"I've never taken the clay seriously enough and I've always tried to avoid it because I was never brought up on the clay," explained the Scot.
"This year Nino [Severino, coach] said 'I'm sorry but we've got to take it seriously because you're going to miss two months of picking up ranking points'.
"And we went through the whole seven weeks of tournaments and I won a round in Paris, which I never thought I could possibly do.
"Next year I can build on that. The clay season this year gave me the confidence to think 'wow, I can actually play on this'.