Injury forces Novak Djokovic to pull out of Paris Masters
Last updated on .From the section Tennis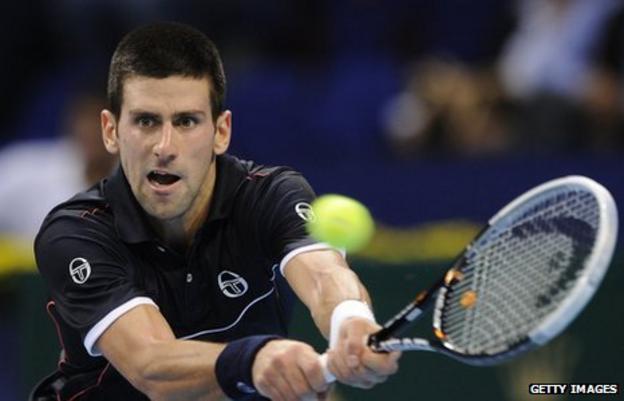 Novak Djokovic has withdrawn from the Paris Masters due to a shoulder injury - and apologised to fans who bought tickets to watch him play.
World number one Djokovic was due to face Jo-Wilfried Tsonga after defeating fellow Serbian Viktor Troicki.
But Djokovic has pulled out after complaining of a sore shoulder.
"I am very sorry for all of you who bought tickets and wanted to come and watch me play," said Djokovic on Twitter.
Djokovic, 24, has enjoyed a stunning year, winning three Grand Slam titles - the Australian Open, Wimbledon and US Open - as well as reaching the semi-finals of the French Open.
And he is due to play in one more tournament - the ATP Tour Finals at the O2 Arena in London from 20 November which feature the world's top eight players, including Andy Murray, and a prize fund in excess of £2.5m.
Djokovic, who has already earned more than £6.9m in prize money this year and picked up a £1m bonus by competing in Paris said: "My season has been long and tiring, I played all of my matches at my highest level, and now my body is aching for recovery.
"I have pushed myself to the limit by playing and, after the match yesterday, my shoulder got worse.
"For this reason, I have to put my health first and withdraw - even though my urges as a professional player are making me want to play until the last drop of energy."