Top tennis players set for ATP World Tour Finals
By David Ornstein
BBC Sport at the O2 Arena
Last updated on .From the section Tennis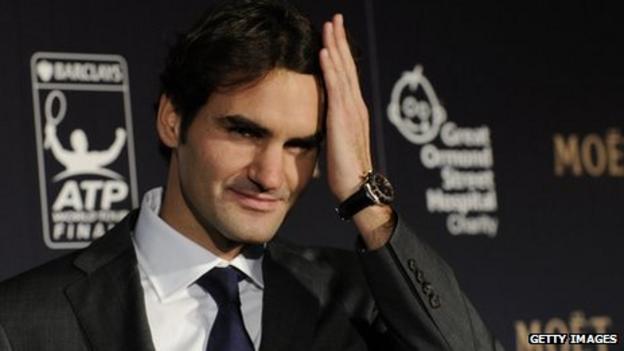 Roger Federer says he is not feeling the pressure as he seeks to defend his ATP World Tour Finals crown and lift a record sixth season-ending title.
The 16-time Grand Slam champion has slipped to number four in the rankings but is confident of ending 2011 on a high.
"It would be amazing to win for the sixth time," he said.
"There's always pressure as defending champion but I'm used to it. I've done it so many times."
World number two Rafael Nadal added: "Being here is a big motivation - it's one of the most beautiful courts in the world."
The world's top eight players will compete at London's O2 Arena for a third successive year, with Federer and Nadal both featuring in Sunday's opening round of matches.
Federer takes on Jo-Wilfried Tsonga of France at 1400 GMT before Nadal plays American Mardy Fish not before 2000 GMT.
Tsonga came from two sets down to upset Federer in the Wimbledon quarter-finals this summer with the Swiss gaining revenge with victory in the Paris Masters final on Sunday.
On Monday, Britain's Andy Murray faces Spain's David Ferrer and, in the afternoon match, world number one Novak Djokovic goes up against Czech Tomas Berdych in the evening.
Federer will finish the season without a major title for the first time since 2002 but he arrives on a 12-match unbeaten run and is confident of success.
"It's nice to be part of the top-eight at the end of the season and have a chance to finish the year on an absolute high," stated the 30-year-old Swiss.
"Whereas 90% of players or more are on vacation already or preparing for next year or the Davis Cup final, for us it continues and the focus is solely on us top guys.
"There's a lot of tennis left and I hope to be a part of it at the final weekend."
Federer could yet leapfrog Britain's Andy Murray to finish the year as world number three, but the right-hander from Basle does not see this as a priority.
He feels the 2011 rankings belong to Novak Djokovic, who knocked Nadal off top spot at Wimbledon and has enjoyed one of the most impressive seasons in tennis history.
"Right now, forget about the rankings," said Federer. "Now it's about trying to win the World Tour Finals - for me to defend it, for others to win it for the first time.
"It's going to be interesting to see who comes through, then we'll see what the rankings are at the end of this year. Next year starts from scratch again.
"Novak is the player of the season - that's what the fans and players will remember."
Federer suggested the event was harder to call than in previous years, adding: "This year is very interesting because the top four are the favourites but the other four all have the potential to cause an upset and even go all the way.
"I think Tsonga, Fish, Ferrer and Berdych all have big games that can be extremely dangerous on any given day. Honestly, they're good enough to win this too."
Nadal returns action for the first time since his shock defeat by Germany's Florian Mayer at the Shanghai Masters on 13 October.
"The loss in Shanghai was difficult for me because I felt I was in a positive moment, I had an opportunity to play a good tournament and I had a bad loss against Mayer," he said.
"That hurt me a little bit and I felt I needed to stop, to practise a little bit and to recover physically and mentally.
"For me to finish the season with a good feeling is important, it's positive and I'm working for that.
"I'm feeling good, I feel happy about how I practised, I'm happy about how my mind is working, working hard everyday and with enough motivation."
The Spaniard collected his 10th Grand Slam title with victory over Federer at the French Open in June but, by his own admission, 2011 has not been his finest campaign.
He lost all six of his meetings with Djokovic - each in finals, including Wimbledon and the US Open - and slipped to number two for the first time since June 2010.
"All my life I've worked for myself, to improve myself," Nadal commented. "I'm not working every day thinking about Novak, I'm working every day thinking what I need to do to be a better player.
"Novak is having an unbelievable season, it will be very difficult to repeat this level of tennis - one of the highest levels I've ever seen. I have to work hard to improve my level.
"But Novak is not going to be at this level all his career and other people will have chances too. My focus is not Djokovic, my focus is myself. I have to improve for myself, not for him."
ATP World Tour Finals order of play:
Sunday, 20 November: Federer v Tsonga (not before 1400 GMT), Nadal v Fish (not before 2000 GMT).
Monday, 21 November Murray v Ferrer (not before 1400 GMT), Djokovic v Berdych (not before 2000 GMT).