Tim Henman on Andy Murray's ATP World Tour Finals chances

By Tim Henman
Former British number one
Last updated on .From the section Tennis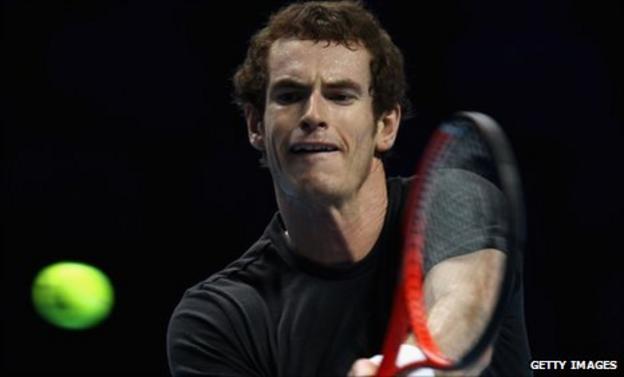 The ATP World Tour Finals mark the end of a season Andy Murray should be extremely proud of. In my opinion, it has been the best year of his career.
He became one of only seven players in history to have reached the semi-finals or better at all four Grand Slam events and that's an incredible achievement.
The challenge now is to get over that line and start beating the likes of Novak Djokovic, Rafael Nadal and Roger Federer in the major finals. It's much easier said than done, but I know his belief is getting greater by the tournament.
Andy will be the first to admit he has not played at his best in the three Slam finals he has contested, but he'll have more chances and eventually the result will be different.
I remain convinced he'll win a major. He's far too good a player not to.
In order to make that step up, you can argue he needs to play more aggressive tennis, take the game to his opponent and not let them dictate.
But I would say his problem is more of a mental thing. If he can generate a relentlessly optimistic approach to his game, not get frustrated and not lose his concentration, then his time will come.
That's dictated by his focus to a gameplan. When he gets the balance right of being aggressive but also consistent, he's one of the best players in the world.
It's a hell of a challenge to be able to do that against Djokovic, Nadal and Federer, but his game is still improving and that's a very encouraging sign.
Winning a tournament of this magnitude would do an enormous amount for his confidence and belief in future Slam semis and finals.
Look at what happened to Djokovic at the end of last year. He finished 2010 on a massive high by winning the Davis Cup with Serbia and then went on to have one of the greatest seasons in history.
If you'd have said this time last year, 'Is Djokovic going to win three of the four Slams and dominate the men's game?' I think a lot of people would have said, 'No way, he's not ready for that', but look what happened.
The big difference in the Slams is that it's the best of five sets rather than three, but any time you can rack up victories against the finest players in the world it's going to be good for your confidence.
He starts his campaign against David Ferrer on Monday and I obviously want to see a Murray win, but having watched Federer against Jo-Wilfried Tsonga on Sunday and seen the conditions, I think it's going to be really hard work.
It looks like the court is very, very slow and you've got to work mightily hard for your points out there. That definitely helps Ferrer.
The Spaniard is such a good mover, he's so consistent from the baseline and Murray is going to have to play an excellent match to come through.
Given his present form, I think Murray will do it, but I wouldn't be surprised if it goes the distance.
The atmosphere out there in the O2 Arena is brilliant. I never had the chance to play a year-ending finals in London, but it's clearly a great contrast from Wimbledon. It's indoors and there's a lot of music, lights and other things going on.
This event has been such a success story. I'd love it to be here for a few more years and the British public would love to see Andy win it.