Rafael Nadal hits out at 'stupid' Noah accusations
By David Ornstein
BBC Sport at the O2 Arena
Last updated on .From the section Tennis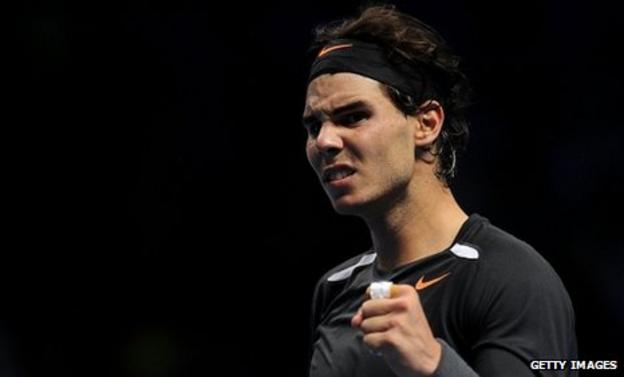 Rafael Nadal has hit back at Yannick Noah's claims that Spanish sporting success is due to doping.
French tennis legend Noah, winner of the 1983 French Open, told French newspaper Le Monde: "Today if you don't have the magic potion, it's hard to win. How can a nation dominate sport virtually overnight like this?"
Nadal was angered by the allegations.
He said: "What he said is completely stupid. This guy does not deserve to write in newspapers anymore."
Noah's article also claimed that drug laws should be relaxed across the board to level the playing field.
Nadal, 25, is currently second in the ATP world rankings and has won 10 Grand Slam titles in his career.
Spain's football team are World Cup and European Championship holders, while cyclist Alberto Contador has won the Tour de France in three of the last five years.
Spain's basketball team has won a World Championship, two European titles and an Olympic silver medal in the past six years.
Noah, 51, who retired from tennis in 1996, said: "When I still milled around on the courts with my racket, we weren't ridiculous, far from it, against our Spanish friends.
"It was the same on the soccer fields, the basketball halls or on the roads of the Tour de France. Today they are running faster than us, are much more stronger and only leave us the bread crumbs.
"We look like dwarves. Did we miss something? Did they discover some avant-garde techniques or training facilities that nobody before them had imagined?"
Nadal responded to Noah's comments by insisting that drug testing procedures show the claims have no foundation.
The Spaniard said: "He knows better than anybody that to say that today is a totally stupid thing because you know how many anti-doping controls we have during the season, year by year.
"So in my opinion, the article that he wrote was from a kid and when one kid says something it's not painful for us."
The French Tennis Federation responded to Noah's remarks with a statement, saying: "The French Tennis Federation wishes to express its disagreement with Yannick Noah's comments made in Le Monde newspaper.
"Against the plague of doping in sport, baseless accusations and provocative comments are inappropriate, and the worst attitude would be to give up."