Tim Henman on Andy Murray's ATP World Tour Finals loss

By Tim Henman
Former British number one and BBC commentator
Last updated on .From the section Tennis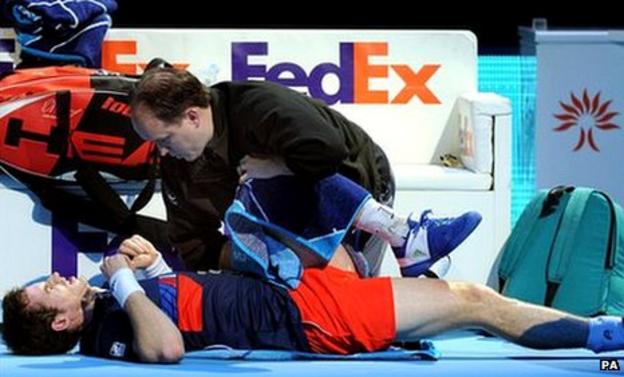 For a player of Andy Murray's calibre, defeat by David Ferrer in your opening match at the ATP World Tour Finals is a bitterly disappointing result.
But first things first, we've got to appreciate his physical condition. He looked uncomfortable throughout, had the trainer on court and later revealed he was suffering from a groin injury.
With his first serve being so erratic today, I did wonder whether his leg was causing him problems - and so it proved.
The big question now is whether
Andy has got to try to get himself 100% healthy, otherwise it's hard to see him standing a chance against Tomas Berdych on Wednesday.
Even in normal circumstances, he would find it difficult, as Andy's got a losing record against the Czech player.
A lot of what Andy will be talking about with his coaches will be dictated by the level of injury.
Fingers crossed, it's something that he can manage because it will be very sad and disappointing for everybody to lose him at this stage.
There was, of course, another player involved on Monday and you've got to give Ferrer a lot of credit.
He was as dogged as ever, really consistent, and made Andy work hard at all times. It's the perfect start for the Spaniard and the worst possible start for Andy.
Up 2-1 with a break of serve in the first set, you felt like this was going to be business as usual for the British number one, but that's when the unforced errors started to creep in.
Andy had plenty of opportunities in both sets. He had game points for a 5-3 lead in the second. But when you don't take those chances and when someone's as competitive and works as hard as Ferrer does, you're going to let your opponent back into the match.
Murray's first-serve percentage was 46%, he was only winning 57% of points behind his first serve and he made 44 unforced errors to just 21 winners.
Those are not good numbers and Ferrer was able to really take his opportunities when he had them.
We certainly don't question Andy's ability when he's playing well but it's all about dealing with adversity. Certainly, for me, there was too much dialogue between him and his team on the sidelines.
I just don't think that gives him the best environment to concentrate on the next point. If there's one area that I would like to see Andy do better, that would be it in a nutshell.
But more importantly, at this point in time, we all need to keep our fingers crossed that he'll be fit to continue.