David Ferrer beats Novak Djokovic at World Tour Finals
By David Ornstein
BBC Sport at the O2 Arena
Last updated on .From the section Tennis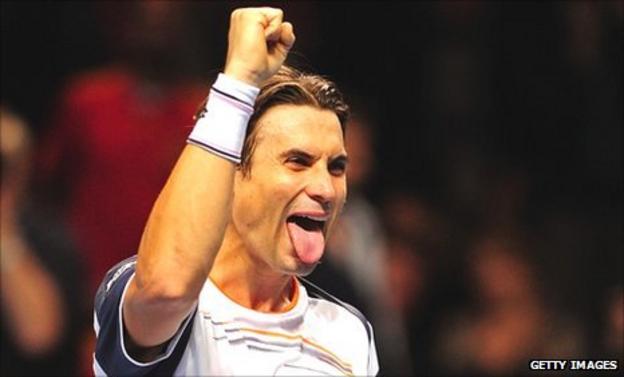 David Ferrer caused his second big shock of the ATP World Tour Finals with victory over world number one Novak Djokovic at London's O2 Arena.
The fifth seed from Spain got the better of British number one Andy Murray on Monday, and two days on he managed to repeat the trick against an even more illustrious opponent.
While Djokovic entered the tournament with question marks hanging over his fitness, he showed few signs of discomfort
But the Serb looked terribly flat - almost uninterested - against Ferrer and deservedly suffered only his fifth defeat in 75 matches this season, losing 6-3 6-1 in an hour and 15 minutes.
"All the credit to David, he played a great match but I just wasn't there. It was the worst match I've played this season so far with so many unforced errors." said Djokovic.
"It's hard to find something that I did well really. My movement, my feel for the ball, my anticipation on the court, nothing. Just a terrible, terrible match.
"David was playing well, but I did not give him any resistance."
Ferrer advances to the knockout stage with a match to spare, against Berdych on Friday, while Djokovic may well have to beat good friend Janko Tipsarevic - a replacement for the injured Murray - to join him there.
"If I don't play at least 50% better than I did tonight, I don't think I'll have any chance," Djokovic said when asked about his hopes of making the last four.
The right-hander from Belgrade has compiled one of the most memorable seasons in tennis history, but this was a night he will certainly want to forget.
Ferrer had won just one of their previous six hard-court meetings but that came at the 2007 year-end championship in Shanghai as the Spaniard went on to reach the final.
And he came into their 11th career encounter on a high the world number three and home favourite.
Ferrer was again the firm underdog but that seemed to fire him up and in the early stages he showed the crowd exactly why many refer to him as 'The Wall'.
The 5ft 9in right-hander was scurrying to all parts of the court, returning everything Djokovic offered and refusing to let the Serb breach his serve.
He saved a break point en route to a gritty hold for 2-2 and then drew rapturous applause with two deft drop-volleys for 3-3.
That set him up nicely to have a real go at his opponent's serve in game seven and a forehand winner followed by two errors from Djokovic brought up a couple of break points.
At the first time of asking, Ferrer lashed an unreturnable forehand pass and the spectators rose to their feet in celebration.
The 41-minute first set was sealed with a second break as Djokovic netted a routine forehand, his 17th unforced error to Ferrer's six.
If that was bad for Djokovic, it was soon to get a lot worse. Four more mistakes gave Ferrer break points early in the second set and a blistering off-forehand winner made it 2-0.
Ferrer conceded only two points in his next two service games, finishing both with booming aces, and more carelessness saw Djokovic fall 5-1 behind.
He was looking to his player box in the stands for inspiration but it was too late, a long forehand for his 33rd unforced error gifting Ferrer the match.
"It is a surprise to me that I won and am in the semi-finals," admitted Ferrer.
"I beat Murray and Djokovic in straight sets so I want to enjoy this moment."
In the evening's Group A doubles match, top seeded brothers Bob and Mike Bryan beat sixth seeds Robert Lindstedt and Horia Tecau 6-1 6-2.
The American pair have won the season-ending championship title three times before, and their straight-forward victory means they have won both their group matches at this year's event.