Rafael Nadal aims to be in 'perfect' condition in 2012
By David Ornstein
BBC Sport at the O2 Arena
Last updated on .From the section Tennis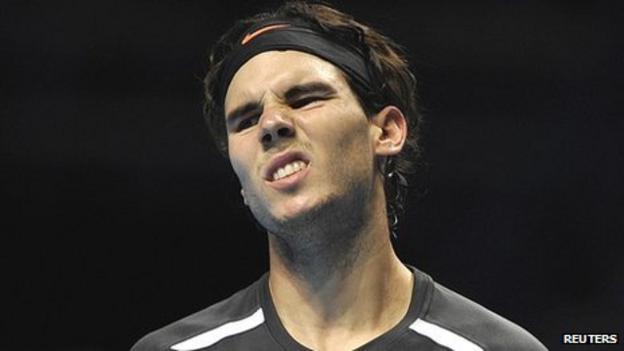 Rafael Nadal plans to be in "perfect" condition for the start of 2012 after admitting his passion for tennis dropped towards the end of this year.
Nadal was knocked out of the season-end ATP World Tour Finals with defeat by Jo-Wilfried Tsonga on Thursday, his fourth defeat in 10 matches.
"I probably had a bit less passion for the game because I was more tired than usual," said the world number two.
"This was a tough year but I'll do all to be perfect for the start of 2012."
Nadal started 2011 top of the rankings but despite winning a sixth French Open crown, he was overtaken by Novak Djokovic during Wimbledon.
The Spaniard lost all six of his meetings with Djokovic - each in finals - and failed to win a non-clay court title for the first time since 2004.
After falling to the Serb at the US Open, he was beaten in the Tokyo final by Andy Murray - dropping the final set 6-0 - and succumbed to Florian Mayer in Shanghai.
He then took five weeks off ahead of the Tour Finals at London's O2 Arena, where he scraped past Mardy Fish but was dispatched by Roger Federer and Tsonga.
Nadal will represent Spain in the Davis Cup final against Argentina from 2-4 December before commencing his preparations for the new campaign.
"We can find excuses, we can find problems, but it's not the moment to say that - it's the moment to keep fighting," said the 25-year-old.
"It's the moment to analyse what I did good, what I did bad, and know what I have to work on for the next month.
"The end of the year wasn't easy for me; that's hard to accept. But it gives me more of a goal for the beginning of 2012. I dream about arriving in 2012 with very good conditions."
When asked why his season tailed off after New York, Nadal told reporters he could spend an hour explaining.
But he preferred to focus on the future and his first goal is the Australian Open from 16-29 January.
"The only way to change the situation is to work more, think more about tennis, do everything in the right shape, do everything good inside the court, everything good outside the court," he added.
"I have to work hard - working hard every day, morning, afternoon - if I'm going to have my chance to be competitive to win the big tournaments.
"My goal is there. My motivation, I hope, the same. I will do it."