Nadal to lead Spain against Argentina in Davis Cup final
Last updated on .From the section Tennis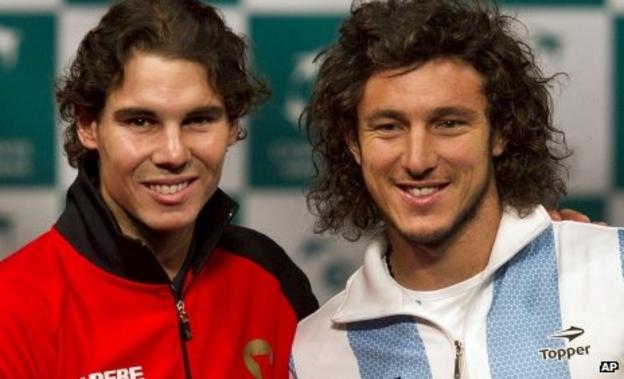 Rafael Nadal says he is ready to lead Spain to a fifth Davis Cup title by beating Argentina, despite complaining of "a lack of passion" for tennis.
Nadal will open against Juan Monaco when the final begins on clay at Seville's Olympic Stadium on Friday.
The Spaniard player had provoked alarm with his comments after an early exit at last week's ATP World Tour Finals.
Nadal later added his words had been "blown out of proportion" and related to "weariness from years of playing".
The Spaniard was knocked out of the ATP World Tour Finals last week with a defeat by Jo-Wilfried Tsonga in the group stages, his fourth loss in 10 matches, and afterwards said: "I probably had a bit less passion for the game because I was more tired than usual."
However, speaking in Seville on Wednesday, he added: "Things get blown out of proportion very often because conclusions are drawn far beyond the meaning of what's said.
"It's true that this season has been tough. More than a lack of passion, it is a weariness from many years of playing at this level, week after week. The important thing now is to work each day at 100% with the excitement needed to win the Davis Cup.
"They [Argentina] have great players, all of which stand out on the circuit, so the only thing we can do is concentrate on reaching the final as prepared as possible and then hope our rivals don't have an inspired weekend."
The contest is a repeat of the 2008 final, when Spain won on a hard indoor surface in Argentina despite missing Nadal because of injury.
This time Nadal will lead a Spain team which includes the fifth-ranked David Ferrer and probable doubles partners Feliciano Lopez and Fernando Verdasco.
Ferrer conceded the South Americans have a big advantage, with himself and Nadal having played this week.
"I'm very tired," said Ferrer. "I want to stop, but I can't because I have the Davis Cup. It is a disadvantage because we've played more matches. We'll be more tired. We have to change now to clay courts. The Argentinian guys, they were practising two weeks ago on clay."
Argentina are seeking a first title in four attempts, having finished runners-up in 1981, 2006 and 2008, while Spain have lifted the Davis Cup on four occasions - 2000, 2004, 2008 and 2009.
"Spain are playing at home and are favourites, so they are under a lot of pressure too," said David Nalbandian, who will play in Saturday's doubles and could yet be brought in for a decisive fifth rubber on Sunday. "The 2008 final was completely different."