Davis Cup 2011: Rafael Nadal seals Davis Cup for Spain
Last updated on .From the section Tennis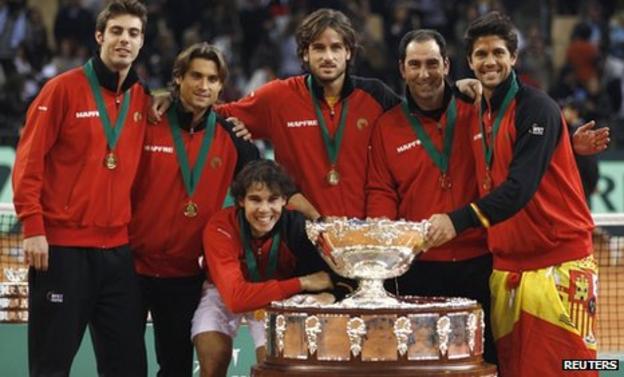 Rafael Nadal beat Argentina's Juan Martin del Potro in a thrilling match to secure the Davis Cup for Spain.
World number two Nadal lost six games in a row in the first set but came back superbly to win a high-class encounter 1-6 6-4 6-1 7-6 (7-0) in Seville.
The victory was his 16th successive win in Davis Cup singles on clay and gave the hosts an unassailable 3-1 lead.
However Nadal said his busy schedule, which includes the Olympics, meant he would not play Davis Cup in 2012.
His success secured Spain's fifth Davis Cup title and their third in four years, while Argentina have yet to win it.
"Today is one of the most emotional days of my career," said Nadal, 25, after winning the title for the third time.
"After such a difficult year, this was a spectacular finale to the season. To win a final this way is very special.
"We are very grateful to all the people of Spain. It was the best atmosphere I have experienced in my career.
"Next year I will not play. Next year is a very complex year. It's an Olympic year. I have been, for many years, one of the players that plays the highest number of games in a year, and I don't want to over play.
"So next year, since it's an Olympic year, my participation in the Davis Cup is impossible."
A strangely out-of-sorts Nadal broke Del Potro in the first game but his opponent battled his way back into the match and dominated the Spaniard's serve to take the opening set to the delight of the Argentine fans in the 28,000 Olympic Stadium.
However, Nadal's indomitable spirit helped him halt Del Potro's run and he took the second set with a typically aggressive display that was greeted by a huge roar from the home supporters.
The 10-time Grand Slam winner took the third set in commanding style and the result looked to be a formality with Del Potro, who lost a near five-hour epic to David Ferrer on the opening day, seemingly tiring.
But, as the tension grew with each point, the 11th-ranked Argentine dug deep and produced a series of magnificent winners to keep the tie alive, taking 10 points in a row and then breaking the Spaniard in the eighth game to give himself the chance to serve for the set.
However, amid increasing noise from the crowd, Nadal went on the attack and broke Del Potro's serve to level the set again.
Nadal broke his opponent again but Del Potro was not beaten yet and broke back immediately, firing a blistering forehand winner to take the set into a tie-break, in which the left-hander was unstoppable.
"On home clay they are probably one of the best teams in history," Argentina captain Tito Vazquez said after Spain stretched their record home winning streak to 21 series.
Del Potro left the court in tears for the second time in three days, having also let slip a lead in his five-set loss in his opening singles match.
"Both my colleagues and I must be happy that we have done a good job, not only in this tie but the whole Davis Cup," said 23-year-old Del Potro.
"We could fight Spain on home turf and we could feel that we could beat them.
"But beyond the defeat, I am particularly happy because of what the team gave me and what my colleagues gave me and their support so that I could play better."