London 2012: Miloslav Mecir on winning tennis gold in Seoul
Last updated on .From the section Tennis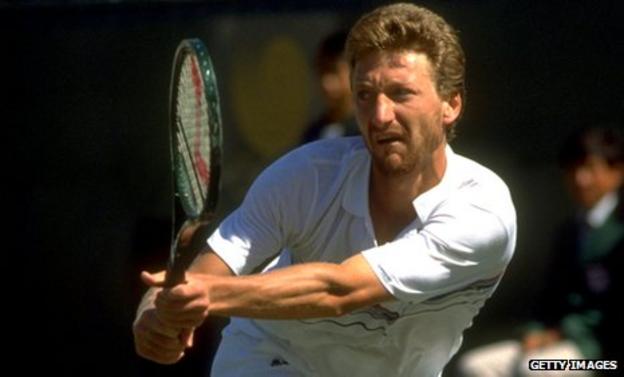 Seoul '88 was a great experience for me - I prepared and played very well, and it remains an unbelievable memory.
I was very much looking forward to going because, from a young age, I had always followed the Olympics and it was a big event for me. I was really happy to be there with other sportsmen and the atmosphere in Seoul was great.
I had done well in Wimbledon that year, reaching the semi-finals, and I had won some tournaments by the time the Olympics arrived in September.
Despite having a few problems with my back, I was still in quite good shape and my form was pretty solid. I had changed my game a little bit over time and adapted from being a clay-court player to playing well on grass and the type of hard courts they were using at the Olympics.
It felt great to be representing Czechoslovakia at the Games - it was like a dream come true. It was such a big thing back home, probably the biggest sporting event the nation had experienced up until that point.
Four years before, tennis had been at Los Angeles as an exhibition event and I had been looking forward to going but the Eastern Bloc was boycotting.
I could never mix politics with sports - it goes against my mentality. I was really unhappy that I couldn't go. I was playing a tournament in the US during the Olympic Games and it was a sad time. It was strange that I could play in the ATP tournament but I couldn't go to the Olympics.
The atmosphere at the Games when I finally got there four years later, well, I felt everything. I didn't feel like a tennis player in Seoul, I felt like a sportsman.
The event was smaller than a Grand Slam but in terms of the Olympic Village, it was huge. Just being there will all these other sportspeople was so special. I remember seeing Carl Lewis and Ben Johnson, big stars that before I'd only ever seen on the TV. And there were so many Czech sportsmen, from our handball team, basketball and cycling, who I'd never met before, and lots of them came to watch me play.
I lived in the Village in a big apartment with some of the players and a coach, and the girls were next door, Jana Novotna and others.
I had never played tennis in South Korea before and as it was September it was pretty comfortable, sometimes humid or windy but not very hot.
My form going into the tournament was good but I didn't feel particularly special until I came through a tough match in the first round which helped me to improve my game. The longer I played, the better I played.
I got some inspiration two days before my semi-final when I watched our man Jozef Pribilinec win the 20km walk, and afterwards I went to his room where we had a little talk and he showed me his medal. It was a really great feeling.
When the final started I was a little bit nervous as I had only played once before against Tim Mayotte and I'd lost the match.
I didn't really know how I was going to have to play but after losing the first set I started to improve and use the right tactics, passing him at the net a couple of times. He started getting a little bit nervous and frustrated and from then on I felt that I was in control of the game right up to the end.
When I won I felt all sorts of emotions at the same time - it's difficult to realise at the time what's really happened, but I felt great happiness.
These days I feel it a little more when people ask me about it. I still have my medals back home and I do sometimes show them to younger guys, sportsmen, or to school children. It still gives me satisfaction.
It is fair to say that it wasn't a top-level field in Seoul. Everybody who wanted to come in 1988 did come, but others were not sure whether it was a big event or not.
I do think that has changed now and modern tennis players think about the Olympics as a big event. They really have respect for the Games and top guys have won it - Andre Agassi, Rafael Nadal. I think it has great prestige. Tennis is just as valid at the Olympics as other ball sports like football or table tennis. It's one of the most popular sports in the world.
And it's great that Wimbledon will host the Olympic tennis in London. I think combining the tradition of Wimbledon as a Grand Slam with the Olympics coming to the venue will be fantastic.
I cross my fingers for the players at the Games, it's a fantastic feeling to be there, to compete and to be part of the biggest sports movement in the world. If I had to say one thing to them it would be 'give your heart to the Games'.