Novak Djokovic beats Roger Federer at World Tennis Championship
Last updated on .From the section Tennis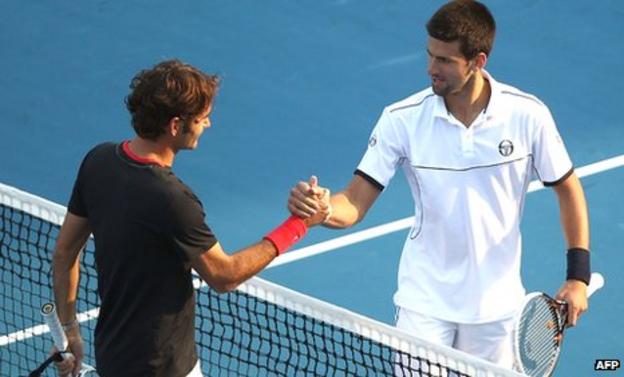 Novak Djokovic enjoyed a convincing victory over Roger Federer at the World Tennis Championship exhibition in Abu Dhabi.
World number one Djokovic defeated the 16-time Grand Slam champion 6-2 6-1 and will play Rafael Nadal's conqueror, David Ferrer, in Saturday's final.
"It is the perfect start to the season - I played great," said Djokovic. "It's something that makes me very happy."
Ferrer beat fellow Spaniard and world number two Nadal 6-3 6-2.
Nadal, who won the tournament in 2009 and 2010, was nursing the sore shoulder he .
The 25-year-old said the joint "felt OK, not perfect" but added that he would still play at the season-opening Qatar Open in Doha, which begins on 2 January.
"I knew before coming here that I was not ready to win a match against David Ferrer, not to win a match against Djokovic or Federer," stated Nadal.
"But I am ready to spend hours on court without risk of injury. That is the most important thing. I need this transition, hours of practice.
"If I am here [Abu Dhabi], I will probably have a better feeling for Doha."
Djokovic, meanwhile, dispatched Federer with ease, showing glimpses of the form that saw him finish last season with a 70-6 win-loss record.
The 24-year-old Serb twice broke the world number three in the first set and reeled off nine straight games to help seal a 44-minute win.
He attributed the result to already having a match under his belt - victory over Gael Monfils on Thursday - and suggested Federer, who , would not be overly concerned.
"He has won more than 15 matches at the end of 2011 so I'm sure he won't feel down after this loss here," said Djokovic. "His main goal here is to get a couple of matches under his belt, as it is for all of us."
Federer apologised to the crowd for disappointing them and promised to perform better on Saturday when he faces Nadal in a play-off for third place.
He said he felt "good overall" and "was moving well", adding: "Unfortunately, it was a short-lived match but we know he is a very good front-runner."