Andy Murray admires Ivan Lendl's honest coaching approach
Last updated on .From the section Tennis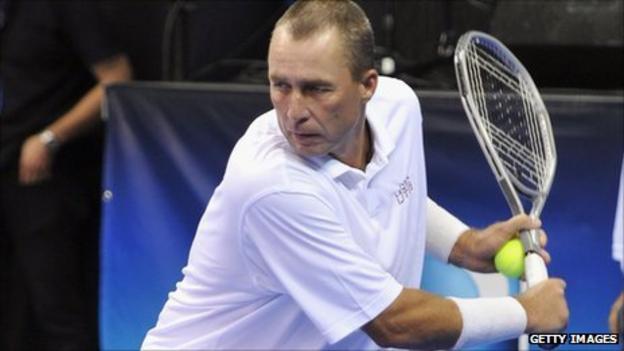 Andy Murray says he was attracted by the honest and open approach of his new coach Ivan Lendl.
Murray, 24, said: "A lot of people are maybe too nice sometimes; they just don't want to upset you or say the wrong thing.
"But he was very honest, very open and that was important."
Murray's 2012 got off to a winning start as he won a first round doubles match at the Brisbane International, teaming up with Marcos Baghdatis.
Murray and Baghdatis beat Colombia's Santiago Giraldo and Japan's Kei Nishikori 6-2 6-2. He plays his first-round singles match against Mikhail Kukushkin on Tuesday.
Murray spoke of his admiration for Lendl, adding: "When he played he was a very hard-worker. He is also one of the most successful tennis players ever.
"I liked what he said and how he felt about my game. I think he has been through a lot of the same things that I have been through, so I am sure he can help me mentally with certain things."
Murray is unconcerned about Lendl having no prior experience of coaching a player on the men's tour.
"The best coaches don't always make the best players and the best players don't make the best coaches.
"That is something that I am sure will be a challenge for Ivan and he seemed quite excited by that as well. He has never coached before and he was saying that he was willing to learn."
World number four Murray has "struck gold" in appointing Lendl, according to the American's former mentor, Tony Roche.
"I've got to say it's a really good move from Andy," said Roche.
"Anyone who knows Ivan will tell you how much he's going to bring to the table for Andy. Few people in our sport have ever trained as hard as Ivan or been as professional."
Australian Roche, who won the French Open as a player in 1966, spent eight years with Lendl.
"Ivan and Martina Navratilova were the two players in the 1980s who took the game to another level in terms of professionalism," added Roche, who has also coached three other world number ones in Pat Rafter, Roger Federer and current charge Lleyton Hewitt.
"He's always been one of the great students of the game so I'm pretty sure Andy has struck a bit of gold here.
"All the things his career was based on, like working hard and being meticulous with preparation and execution and that ability he had to concentrate on what was in front of him for hours on end, will rub off on Andy."
Lendl lost his first four grand slam finals before going on to win eight major singles titles and hold the world number one ranking for 270 weeks.
Roche believes Lendl's return to the spotlight after keeping a low profile since his retirement in 1994 is great news for tennis.
"Ivan is back in tennis and that is fantastic for our sport," Roche said.
"Being the student of the game that he is, being such a switched-on and motivated guy, the way he worked on his game as a player, the way he prepared himself, all of that knowledge and experience is in Andy's corner now.
"That's not to say Andy hasn't been working his backside off already and putting in the hard yards, but I think Ivan is going to add another dimension."
Murray has suffered the frustration of losing all three of the major finals he has contested in an era dominated by what many regard as three of the greatest players of all time: Federer, Rafael Nadal and Novak Djokovic.