Roger Federer out of Qatar Open with back injury
Last updated on .From the section Tennis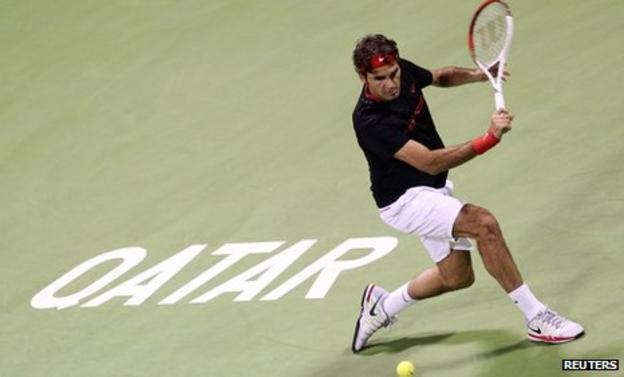 Defending champion Roger Federer withdrew from the Qatar Open with a back injury ahead of his semi-final against Jo-Wilfried Tsonga.
Federer, the number three seed, is on a 20-match unbeaten run.
But he said: "I've played through two matches in pain and don't think it's the right thing to risk anything more now."
Top seed Rafael Nadal lost his semi-final to fourth-seeded Frenchman Gael Monfils 6-3 6-4.
Federer's injury will be a concern ahead of the first Grand Slam tournament of 2012, the Australian Open, which starts on 16 January.
After playing Grega Zemlja in the second round, the 30-year-old Swiss beat Italy's Andreas Seppi over three sets in Thursday's quarter-final, but took the decision to pull out after warming up on Friday.
"I've just been trying to manage the situation really. Back spasms happen and sometimes you can contain them with massage and painkillers," Federer said.
"I don't want to drive myself crazy with more painkillers and I need to do what's right to get it better. It is only the second time I have pulled out from a tournament and I have never pulled out during a match.
"It's a sad moment for me, the tournament and the fans, but health comes first."
Federer feels "optimistic" he will be fit for the Australian Open, where he hopes to win back the title he lost to Novak Djokovic last year.
He said: "Although it's not very good, it's not crazy bad. I have had bad backs in the past but this is not very good, otherwise I would definitely be playing.
"I feel that without play and with the right treatment, I will get through it in the next few days. That's my personal opinion right now.
"Then of course I have a long journey in front of me going to Australia but I hope maybe midweek next week I should be a 100% again. But that's just guessing."
Despite losing to Monfils, Nadal said he was very pleased with his week's work in Doha.
"I am not lying to you, and my feeling is very positive. I think I played a great tournament, much better than what I thought.
"So seriously, the only negative thing of today is to lose. For the rest, I am satisfied."
Tsonga will take a 2-1 head-to-head advantage in to Saturday's final.
Their last encounter however was a win for Monfils, a three-set semi-final win in Montpellier in 2010.