Australian Open 2012: Rafael Nadal dismisses fitness concerns
Last updated on .From the section Tennis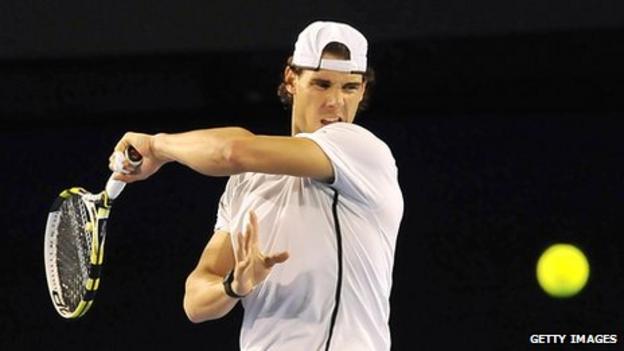 World number two Rafael Nadal has dismissed concerns over his fitness, saying his shoulder is "in perfect condition" before the Australian Open.
The 2009 champion plans to take February off to recuperate but will compete at Melbourne Park.
Nadal, 25, added he was motivated by regaining his number one ranking from Novak Djokovic.
Nadal won a sixth French Open crown last year but lost to Djokovic in the finals of Wimbledon and the US Open.
The Spaniard admitted he lost some love for the game towards the end of last year before leading Spain to the Davis Cup title in December.
"I played with fantastic passion the last two matches of the year in the Davis Cup," said Nadal.
"I've been working hard. I think I'm working the right way. There's Djokovic [to compete with], but there's a lot of fantastic players around and I have to be ready to compete against everybody.
"Last year I lost six important finals against him, but I played finals and that's something really difficult to do. I know how difficult it is to be [in finals] almost all the time."
Nadal added that his semi-final loss to Gael Monfils at the Qatar Open last week was a better result than he had expected.
The Australian Open starts on 16 January and the draw will take place at 2300 GMT on Thursday.