Australian Open: Roger Federer 'cool' with Rafael Nadal criticism
Last updated on .From the section Tennis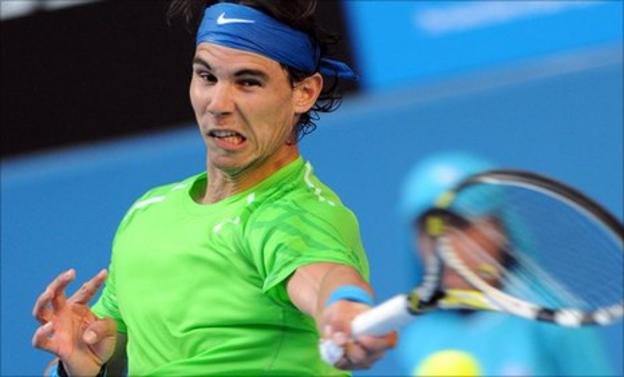 World number three Roger Federer has diffused a potential rift with Rafael Nadal over the governance of the game.
Nadal said on Sunday that Federer had not done enough to challenge the authorities over issues such as prize money and scheduling.
But, following his first-round win in the Australian Open, Nadal admitted he was wrong to go public on the matter.
After his straight sets win in Melbourne, Federer insisted he had "no hard feelings" towards his rival.
Federer admitted he shared Nadal's frustrations over perceived problems in the men's game.
The third seed, who has won a record 16 Grand Slam titles, said: "For me, nothing changes in terms of our relationship. I'm completely cool and relaxed about it. He seemed the same way - or at least I hope so."
Along with Briton Andy Murray, Nadal has been one of the most vociferous critics of the schedule amid fears it has become too demanding on the leading players.
Nadal, who overcame injury concerns to beat qualifier Alex Kuznetsov 6-4 6-1 6-1, said of Federer on Sunday: "His position is easy: do not say anything, all positive, I am a 'gentleman', others get burned."
The Spaniard apologised following his opening-day victory, saying: "What I said, I said, but I was probably wrong telling you because these things must stay in the locker room.
"I have always had a fantastic relationship with Roger and I still do. We can have different views about how the tour needs to work, that's all.
"I feel sorry for saying it because I should have said it to him personally."
Federer warned that a players' strike would not benefit the game, describing 'strike' as a "dangerous word to use".
"If there is no avoiding it, I'll support the rest of the players, but I just think we need to think through how we do it," he said.