Elena Baltacha column
By Elena Baltacha
British number one
Last updated on .From the section Tennis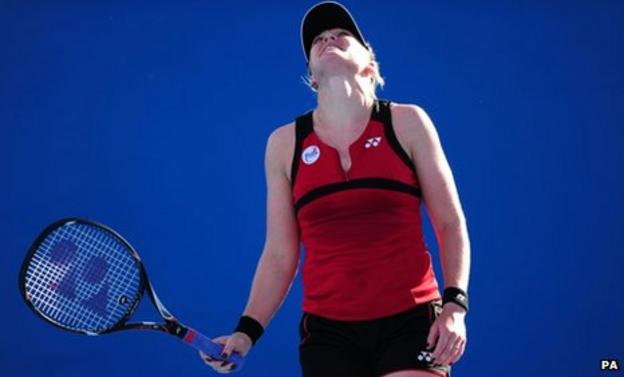 All of us British players know how much people back home want us to win, so it's great to see Andy Murray keeping the flag flying at the Australian Open.
Of course I wish that I was still there too, getting ready to play Kim Clijsters in the second round, but instead I'm getting ready to board the long flight home after an incredibly disappointing tournament.
I've had time to reflect on my first-round loss to Stephanie Foretz Gacon and although the tears have dried I'm still absolutely gutted, especially because I know that it was a winnable match.
The job now is to go home, think about why I didn't perform and make sure I do a lot better next time. I'd imagine Australia's big hope since she lost in the first round of her home Grand Slam with loads of expectation on her.
Sam said afterwards that it's a shame you can't choose the days you're going to play well, and I know what she means. Sometimes the tennis just isn't there and you run out of time in the match before you can sort it out.
I've been working very hard on my game with my team over the off-season and I made a few changes which look great on the practice court, but which are taking a little while to work in matches. It's a painful process because you have to take a step back to take a step forward but sometimes it's the only way to improve.
- James Ward, Laura Robson, Heather Watson and Anne Keothavong - and we're aware that we all get lumped together when that happens, but tennis doesn't work like that. It comes down to each individual and the circumstances they play in.
James and Laura both won three matches in qualifying and did really well, Anne wasn't well for her match and Heather lost to Victoria Azarenka, who's a contender for the title.
Anne, Laura, Heather and I will have a chance to regroup when we join up for Fed Cup duty in Israel in a couple of weeks under our new captain Judy Murray. I'm sure we're all looking forward to it because it's always a thrill to play for your country and, although it's a really tough week-long play-off, we know we're capable of getting out of the group we're in.
Judy is a great coach and I've no doubt she'll be an inspirational Fed Cup captain.
It's good to have that to look forward to as I head home and with any luck I'll be able to well and heading towards the Australian Open title before I go away again.
I'll be cheering him on all the way, mainly because I know better than anyone that winning tennis matches isn't always as easy as he makes it look.