London 2012: Olympics Games a priority - Novak Djokovic
Last updated on .From the section Tennis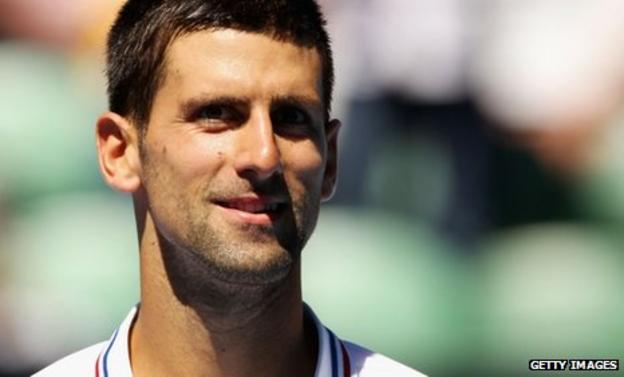 World number one Novak Djokovic insists that the Olympic Games are as much a target for him as the Grand Slam tournaments in 2012.
The Serbian, 24, won three of the four major titles last year as he overtook Rafael Nadal for the top ranking.
And after taking bronze in Beijing four years ago, Djokovic is keen to succeed Nadal as Olympic champion when the Games come to Wimbledon.
"It's one of the biggest priorities this year, Olympic Games," he said.
"I had that privilege and honour to represent my country in 2008 Beijing Olympics. It was a remarkable experience, like no other."
He added: "Tennis is just one of so many sports that is present in the Olympic Games, which is the most prestigious, the most valuable, the most well-known sporting event in the history of sport. That says enough.
"I'm very happy to be representing my country again and going back to the Wimbledon grass where I played in 2011, achieved one of my biggest goals. So I hope that I can play well, perform well and bring a medal to Serbia."
Having dominated the majors in 2011, Djokovic only needs the French Open to complete the career set, and he does not rule out a first calendar Grand Slam in men's tennis since Rod Laver won all four in 1969.
"Everything is possible," said Djokovic, who defends his Australian Open title this month.
"Obviously 2011 has been the best year so far in my career. It's going to be very difficult to repeat what I have done.
"But, look, I've done it once. Why not twice? Why not stay optimistic and positive about the whole season? Obviously I'm not thinking too far away from Australia - my focus is directed to this tournament. I want to start off the year well."
The focus on Olympic tennis was apparent as Andy Roddick signed up to play mixed doubles with Serena Williams in Melbourne, ahead of a likely pairing for the United States at the Games this summer.