Australian Open 2012: Tomas Berdych admits mistake in Almagro snub
Last updated on .From the section Tennis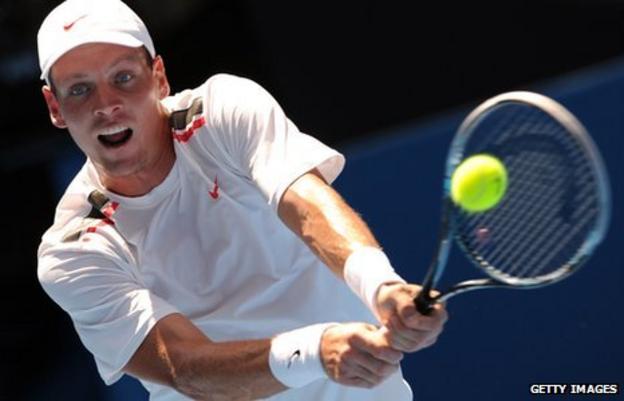 Tomas Berdych says he made a mistake by refusing to shake Nicolas Almagro's hand after beating the Spaniard in the fourth round of the Australian Open.
The Czech won in four sets but accused the Spaniard of deliberately hitting a ball at him while he was at the net.
Berdych was booed by the crowd during the post-match interview on the court.
But later he said: "What happened from Nico was not what should be happening in tennis. Maybe we both made a mistake, so it's even and that's it."
The incident occurred towards the end of the match when Almagro fired a short ball directly at his opponent at close range.
The seventh seed was forced to put his arm up in defence to prevent the ball hitting him in the face.
The shot was legal and the Spaniard apologised straight away.
But Berdych refused to shake hands with Almagro at the end which led to an eruption of vociferous booing from the crowd on Hisense Arena.
However, later the Czech revised his thoughts on the incident saying: "We don't have any problems together.
"Even if we see each other at other tournaments there won't be a problem. We can meet and have a practice."
But he remained frustrated with the Spaniard's choice of shot.
"Whoever has played tennis knows the court is pretty big and you always have space to put the ball in," added.
"And even if you stand just three or four metres from a guy [you don't have to] try to hit it straight at the face."
Giving his side of the argument, Almagro added: "I played to win the point and I leave with my head held high.
"The support of the public showed what happened. They were aware of what happened on the court.
"It was an important point as it was for a 0-40 but these things happen in the game of tennis."
Berdych, who beat the 10th seed 4-6 7-6 (7-5) 7-6 (7-3) 7-6 (7-2), will play world number two Rafael Nadal in the quarter-finals after 6-4 6-4 6-2 in two hours and 25 minutes.