Andy Murray can win Australian Open with Ivan Lendl - Jeremy Bates
Last updated on .From the section Tennis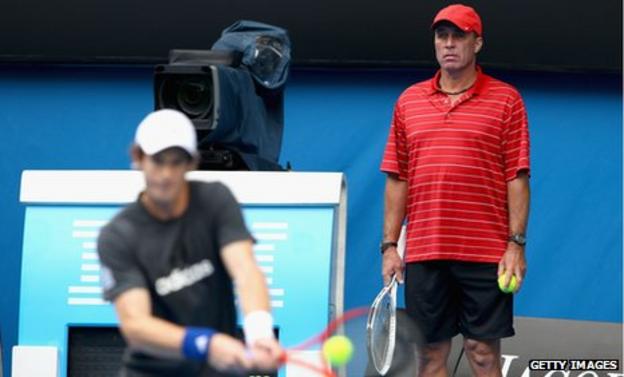 Jeremy Bates believes Andy Murray's relationship with new coach Ivan Lendl is the key to the Scot winning his first Grand Slam.
And former British number one Bates believes eight-time major winner Lendl has been a "breath of fresh air".
He said: "You can sense Murray's in a good place at the moment. Lendl obviously brings a new perspective."
Murray, 24, has been criticised in the past for his on-court tantrums and was famously branded "miserable" by another former British number one Tim Henman.
Lendl, 51, was appointed by Murray as his new full-time coach last month.
And Bates believes he has seen a changed demeanour in the player, a beaten finalist at Melbourne Park in 2010 and 2011, since he linked up with the Czech-born American.
Bates, who spent many years playing alongside Lendl on tour, said: "Murray was smiling on court and he's clearly enjoying it.
"Lendl does have a wicked sense of humour, which I think marries into how Murray is off the court.
"They get on very well. It's all coming together for Murray.
"Obviously when Lendl was world number one he presented a ruthlessly professional individual.
"On the other hand when you saw him off the court he was always cracking jokes. He's the life and soul."
Since parting company with his last full-time coach, Spaniard Alex Corretja, in March, Murray had employed a part-time coaching team, led by Venezuelan Dani Vallverdu and had pronounced himself happy with that arrangement prior to Lendl's appointment in December.
The Scot's previous coaches have included Mark Petchey, Brad Gilbert and Miles Maclagan.
After watching Murray beat Kukushkin in 49 minutes on Monday morning, Lendl told the BBC: "We have good times. Everybody is making jokes on everybody else. It's good."
As well as their thriving off-court relationship, Murray has credited Lendl for instilling extra confidence in him and said he was soaking up his coach's knowledge.
He added: "I think because it's him you're kind of like a sponge. You're absorbing a lot of different information.
"You're asking a lot of questions and you're getting a lot of good answers, interesting ones.
"When you just get that little bit of extra help from someone that's been there and done it many, many times, it helps."