Australian Open 2012: Kim Clijsters beats Caroline Wozniacki
Last updated on .From the section Tennis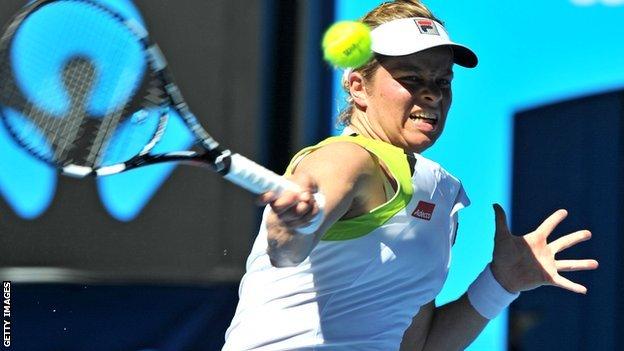 Reigning champion Kim Clijsters beat outgoing world number one Caroline Wozniacki to reach the semi-finals of the Australian Open.
Clijsters, 28, overpowered the Dane, 21, to win 6-3 7-6 (7-4) in scorching temperatures at the Rod Laver Arena.
The Belgian, who says she is playing in her last Australian Open, will face Victoria Azarenka in the semi-final.
Earlier, Belarusian third seed Azarenka beat Poland's eighth-seeded Agnieszka Radwanska 6-7 (0-7) 6-0 6-2.
Wozniacki, who will now lose her number one ranking after the tournament to end a 67-week run at the top, said she was not concerned about her ranking.
"To be honest I don't really think about it," said the 21-year-old, whose search for a maiden Grand Slam continues. "I have been there for a long time already, I finished number one two years in a row.
"We are just in January. At the end of the year you see who has played the best, most consistently all year round. I will get it back eventually, so I'm not worried.
"I start laughing every time because the media talks to me like I'm finishing my career and I only have one year left and time is running out.
"The fact is I still have quite a few good years in front of me. I still have a number of Australians, and a number of US Opens and Wimbledons and French Opens."
Clijsters hit Wozniacki with a barrage of baseline shots to take the first set, despite a late rally from the Dane.
The second set continued in the same vein with Clijsters racing into a 4-2 lead after breaking Wozniacki's serve for the sixth time. She took the next game, and it looked like victory was close.
Wozniacki found her rhythm and the set went to a tie-break, but Clijsters had enough to edge home.
"I was happy to get through and glad it wasn't three sets because it was so hot," said Clijsters. "I didn't feel like I was a set up and 5-2. I had to work really hard for it as Caroline is a great fighter and changed her tactics to become more aggressive."
In the earlier game, Azarenka, who will replace Wozniacki as world number one if she wins the event, fell apart in the first-set tie-break but responded with seven straight games.
The 22-year-old's momentum carried into the third set where she broke the Pole, also 22, three times as she blasted her way to victory.
After a meandering first 12 games in which serve was broken eight times, Azarenka faltered in spectacular fashion in the tie-break.
Her third double fault gave Radwanska a 6-0 lead and a wild backhand into the tramlines conceded the first set.
The Belarusian's response was impressive however as she tore through the second set to pull level in 26 minutes.
Radwanska briefly stemmed the tide as she held serve in the second game of the decider and broke back in the fifth, but she ultimately had no answer to Azarenka's powerful ball-striking.
"It was difficult in the heat and tough to control the ball," said Azarenka. "I was glad I could turn it around and bring my game back."