Maria Sharapova and Petra Kvitova through at Australian Open
Last updated on .From the section Tennis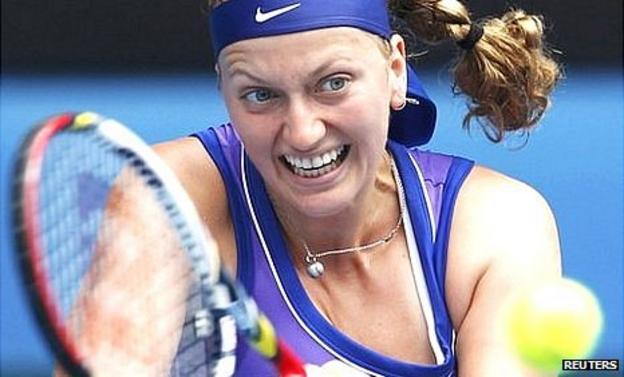 Wimbledon champion Petra Kvitova overcame a spirited challenge from unseeded Sara Errani 6-4 6-4 to advance to the Australian Open semi-finals.
The Czech number two seed struggled for rhythm as Errani drew the sting from her groundstrokes in the first set.
An erratic Kvitova found herself 4-1 adrift in the second, but wrestled the match her way with five straight games.
Kvitova will play fourth seed Maria Sharapova next after she beat fellow Russian Ekaterina Makarova 6-2 6-3.
Kvitova, is one of three players vying to supplant Caroline Wozniacki as world number one after ensured she will drop from the top of the rankings after the tournament.
The 21-year-old had spent less than five hours on court during her four previous matches, but she was given a thorough workout by Errani as the pair duelled for an hour and 51 minutes on Rod Laver Arena.
"I expected [it] to be very tough - she played very well today and before," said Kvitova of her opponent.
"She has a very flat shot and plenty of spin to my backhand so I had to concentrate and think about tactics."
The Bologna-based 24-year-old, ranked 48th in the world, frustrated Kvitova as she chased down her shots and drew mistakes from her higher-ranked opponent.
After moving a double break and 5-2 up in the first set, Kvitova appeared to have come to terms with the challenge.
But Errani recovered one of those breaks late in the opener and she gave Kvitova plenty more to think about in the early stages of the second.
As she continued to force the taller Kvitova to chase to the front of the court, Errani established a healthy lead with consecutive breaks.
The left-handed Kvitova had grown increasingly frustrated by her inability to pin down Errani, but pulled herself together just in time to prevent the match running into a third set.
A crucial hold from 0-30 down on her serve in the sixth game was the catalyst as she belatedly imposed herself on the match and swept past a wilting Errani to become the first Czech woman into the last four since Jana Novotna in 1991.
Sharapova progressed in more straightforward style as she made it three wins from three career meetings with her compatriot in 87 minutes.
The 2008 champion was quickly into her stride and squandered four break points in the second game before making the breakthrough in the fourth as she pounced on Makarova's second serve.
Makarova rallied and forced 30-40 in the seventh, but Sharapova responded with an ace and clinched the opener with a break of her own.
World number 56 Makarova edged ahead with a break in the third game of the second set but surrendered her advantage straight away before Sharapova's strength from the baseline secured the decisive break in the sixth.