Australian Open: Maria Sharapova and Victora Azarenka reach final
Last updated on .From the section Tennis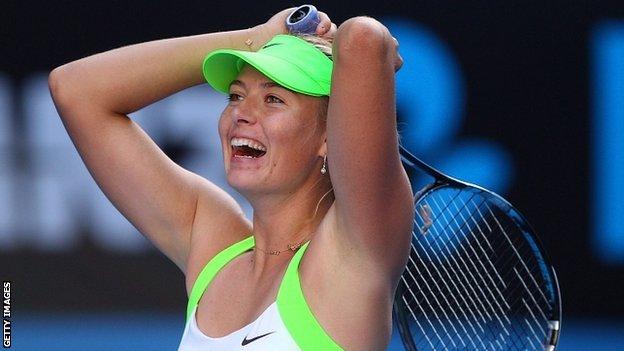 Maria Sharapova and Victoria Azarenka will contest the women's final at the Australian Open after coming through tough semi-final encounters.
Sharapova secured a gruelling 6-3 3-6 6-4 win over Wimbledon champion Petra Kvitova in a match lasting two hours.
Azarenka, from Belarus, beat defending champion Kim Clijsters 6-4 1-6 6-3 in a thrilling see-saw battle.
The final is on Saturday at the Rod Laver Arena (0830 GMT), with the winner also becoming the world number one.
Caroline Wozniacki, who has occupied top spot in the rankings since February, , ensuring that there will be a new name at the top of the women's game when the statistics are revised in the wake of the final.
Third seed Azarenka is bidding to win her first Grand Slam, while Sharapova will hope to claim a fourth major title.
Azarenka was overcome with emotion as she sealed victory, throwing down her racquet, sinking to her knees and covering her face as Clijsters came around the net to congratulate her.
"I felt like my hand is about 200 kilograms and my body is about 1,000 and everything is shaking, but that feeling when you finally win is such a relief. My God, I cannot believe it's over. I just want to cry," Azarenka said, as she choked back tears.
"It was just trying to stay in the moment. Kim really took over the second set and I felt there was nothing I could do. I just tried to regroup."
Third-seeded Azarenka, 22, did not have it all her own way during a match which lasted two hours and 12 minutes.
At times she was outplayed by Clijsters, who displayed flashes of the brilliance which have made her such a formidable opponent for so many years.
But the Belgian, who announced before the tournament started that this was to be her Melbourne farewell, was horribly inconsistent and could not come up with the knockout blow when Azarenka was on the ropes.
A perfect example of this came during the third set when Clijsters failed to hold after breaking Azarenka to get back on serve at 3-4.
Azarenka will know that her service game - which deserted her in the second set - must improve in the final if she is to win her maiden Grand Slam title.
Sharapova did not serve at her best either in the day's second semi-final, the 2008 Australian Open champion committing 10 double faults which almost proved costly as Kvitova took the match to a third-set decider.
Kvitova, who beat Sharapova in the 2011 Wimbledon final to win her first Grand Slam, looked the likelier winner in the decider as she kept the pressure on the Sharapova serve.
The Czech stole ahead in the third, but immediately surrendered her serve back in the fourth.
Kvitova had three break points across Sharapova's next two service games, but the Russian repelled her on each occasion before topping her opponent's serve to seal victory in the final game.
Sharapova admitted that she did not play her best tennis against the second seed, saying: "Sometimes even when you're not playing your best tennis you can find a way to win.
"No matter how good or bad you play, you just try to win your point and that's what I tried to do."