Elena Baltacha: Fed Cup promotion bid is a tough challenge
By Elena Baltacha
British number one
Last updated on .From the section Tennis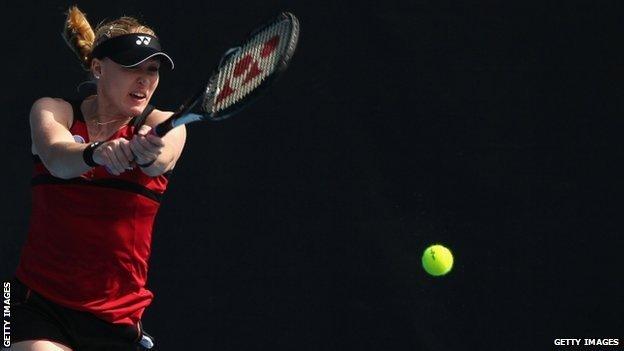 Tennis doesn't ever give you much breathing space between events and while the whole tennis world is still recovering from those amazing last few days of the Australian Open, I'm in the seaside resort of Eilat, Israel preparing to play Fed Cup for Great Britain.
I'm here with team-mates Anne Keothavong, Heather Watson and Laura Robson and our captain Judy Murray, and as usual Fed Cup is unlike any other experience we have as tennis players and coaches.
We are here as a team and that's a novelty in an individual sport where it's usually just you, your coach and maybe your manager or your family. Suddenly we're all together, wearing our team uniforms and bonding together.
Judy has been a big part of making sure that there is lots of fun along with some very serious preparation for what is going to be a very tough assignment this week.
The top 16 nations in the world occupy the World Group I and World Group II and that's where we believe we should be. In order to get there we need to fight our way through a week-long Euro/Africa Group I play-off stacked with really, really good teams including some of the world's best players.
World number six Agnieszka Radwanska's Poland team will be the ones to beat, especially because only two of the 16 teams will get the chance to play off for promotion, while everyone else runs the risk of demotion to Europe/Africa Zone Group II.
Last year it was Victoria Azarenka - the newly crowned world number one and Australian Open champion - and her Belarus team who won through, but in the same week the then world number one Caroline Wozniacki and her Denmark team got relegated.
Like I said, it's a tough group to get out of.
We have been drawn in the same pool as Portugal - against whom we play our first match on Wednesday - as well as the Netherlands and the home team Israel, whose star player Shahar Peer has been ranked inside the top 20.
If we progress then we will give ourselves a shot at promotion. If we fail, we will have to battle just to stay in Europe/Africa Zone Group I.
Judy's approach is incredibly meticulous and she's done so much homework on our opponents and how each of their players play that we will feel really well prepared going in.
She and Leon Smith - who is the head of men's and women's tennis at the Lawn Tennis Association - have brought piles of DVDs of matches for us to discuss and analyse so we spent a lot of time off-court going through those.
Of course it hasn't all been business. Judy is a massive darts fan and she's been trying to get us all hooked. I'm not sure it's my game but she also has loads of word games that we've been playing in the evenings so there have been lots of laughs.
I remember being on trips with Judy when I was a junior player and she always knew how to get everyone in the right mood. It's lovely to be working with her again.