Novak Djokovic v Rafael Nadal: Players & pundits hail 'greatest' match
Last updated on .From the section Tennis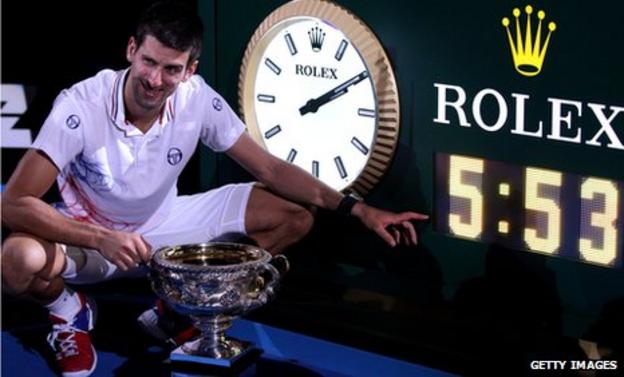 Novak Djokovic and Rafael Nadal left millions of tennis fans across the world mesmerised by their enthralling five-set Australian Open final.
BBC Sport looks at the reaction of current players, ex-professionals, pundits and fans to the Serbian's victory, the "super-human" efforts of both players and whether the match can be ranked alongside the greatest of all-time.
Players
BBC tennis analyst and 1977 Australian Open finalist, John Lloyd: "Djokovic will think of this as the greatest achievement of his tennis career because of the way he won. He now knows there's no match he can't come back from.
"It wasn't that long ago a lot of top players were doubting his guts. He's showed he's as brave as any of them.
"I don't see any reason why he can't win the French Open. Why can't he beat Rafa on clay? I see no reason why not. He might win the Grand Slam this year.
"It wouldn't surprise me the way he's playing right now. We've got three more Grand Slams left and if they're anything like this we're going to be lucky and with the 'fab four' around we've got a great summer coming up."
Former world number one Pat Cash: "It was an absolutely super-human effort by Djokovic. At the end an exhausted Djokovic just had more power and it was able to get him home. And as tired as he was he had a little bit more sting in his game to hit the winner.
"Nadal has got to almost think 'if I can't beat this guy now when am I going to beat him? After all that time this guy is exhausted and I can't finish him off'. It just goes to show how good he is. It's mind-blowing."
Jeremy Bates, a former British Davis Cup captain: "It was a gladiatorial performance from both men. We've witnessed some history - one of the greatest tennis matches you will ever see. It was a phenomenal standard of tennis.
"You've got to feel sorry for Nadal. Having had that chance in the fifth set, being on the receiving end for so long, getting back into the match and in the end coming a little bit short.
"A lot of people are looking at how Djokovic will get on this year after the phenomenal year he had last year. But there's no doubting he is the real deal. He's the genuine world number one and he deserves all the accolades and titles he is getting."
Former British number one and BBC commentator Andrew Castle: "What a spectacle this match was. What a great advert for the sport."
Recently-deposed women's world number one Caroline Wozniacki on Twitter: "Unbelievable win Novak had. Truly unbelievable match."
Boris Becker, a six-time Grand Slam winner: "What a match between Djoker and Rafa..."
Current British women's number two Anne Keothavong: "What a match! Well done Djokovic but Nadal is still my favourite."
Nino Severino, who coaches British women's number one Elena Baltacha: "Redefining the mental and physical limits. Insane, you can only do this in cartoons! Thank you Djokovic and Nadal."
Pundits
BBC tennis commentator Jonathan Overend: "What an effort. Two matches together - the semi-final of four hours 50 minutes and the final of five hours 53 minutes - that's verging on super-human from the world number one and top seed Djokovic.
"You have to revisit this whole debate about the greatest players. You talk about Federer, and Nadal joining him after his 10 Slams and overtaking Federer. Now you look at Djokovic.
"The season he had last year was incredible but people were wondering, quite naturally, was that a fluke, a one-off? I think we can safely say now it wasn't. This guy surely now has a genuine claim to be labelled as one of the all-time greats."
Barry Flatman, tennis correspondent for the Sunday Times: "Game, set, match Djokovic and that was the greatest tennis victory of all time. Will any of us ever see a match like that again?"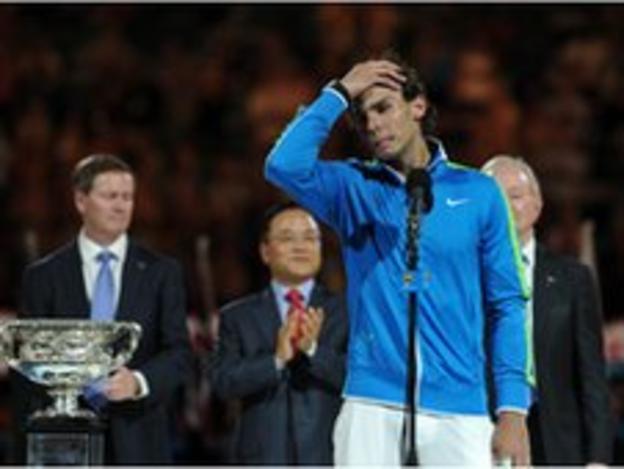 The Times' tennis correspondent Neil Harman: "Five hours and 53 minutes. I thought I had seen a lot in tennis but this is something quite extraordinary. Nole rules. Covering tennis these days is a rare privilege."
Former Daily Mirror editor and celebrity chatshow host Piers Morgan: "How can anyone hit the ball as hard as these two are after five-and-a-half hours? Ridiculous. Puts a footballer's need to be 'rested' after two 90-min games in a week into perspective, doesn't it?"
Des Kelly, Daily Mail sports columnist: "I'm amazed at Djokovic. The man is super-human. I expect he was bitten by a radioactive spider or something a couple of years back."
BBC Radio 5 live pundit and journalist Ian McGarry: "One of the greatest sporting contests I've been privileged to witness. Congrats to Djokovic. Awesome. Respect to both players."
BBC Football Focus presenter Dan Walker: "I know he lost but Nadal might be the ultimate sportsman. Outrageous talent, physically immaculate and gracious in defeat or victory.
Sports stars and fans
Everton and Australian footballer Tim Cahill on Twitter: "Take a bow both men. Ultimate athletes and professionals - credit to sport. Mental and physical strength tested to the max."
Manchester United and England footballer Rio Ferdinand: "Djokovic take a bow..WOW! What a player and the guy's stamina is a joke. Two back-to-back five-setters is punishing but he produced!"
World number one golfer Luke Donald: "They are going to have to come up with a six-hour energy drink, five just ain't going to cut it!"
Former England rugby union World Cup winner Matt Dawson: "Novak and Nadal - that was one of my favourite sporting matches of all time. Words fail me to imagine how exhausted they must be."
Melanie Law: "Epic!! Massive respect to two of the best players in the world!"
Sheila Sides: "Up there at the top along with Borg and McEnroe's five-setter many years ago. Endurance, stamina and breathtaking tennis."
Steve Punter: "Not the biggest tennis fan but couldn't take my eyes off that match. Unbelievable skill, aggression and belief."