Elena Baltacha: GB's Fed Cup win is the most amazing feeling
By Elena Baltacha
British number one
Last updated on .From the section Tennis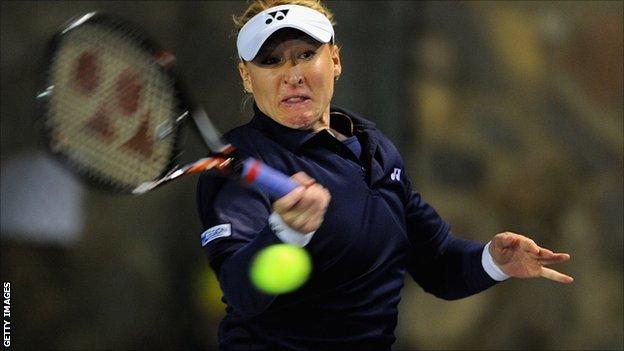 It's hard to put into words how fantastic it was to be part of a winning Great Britain Fed Cup team last week, even though we know the job is not done yet and it won't be finished until we've secured promotion to the top 16 nations.
We went into the play-offs in Eilat, Israel, believing we could get through and give ourselves a chance at promotion but we also knew how incredibly tough it was going to be.
To be travelling home having won all four of our matches, against Portugal, the Netherlands, Israel and Austria, and knowing we achieved it as a team, is one of the most amazing feelings I've ever had.
I'm sure none of us can wait to do it all again in April when we will have the chance to play in the final World Group II play-off round.
We'll find out our opponents on 14 February, and also whether it's a home or an away tie. Obviously a home tie would be massive for us and would be a really nice way to celebrate how much British women's tennis has improved in the past few years. But we'll just have to wait and see.
Judy Murray has been a great captain, incredibly supportive to me personally but also very good at making everyone feel like they are part of something special.
Anne Keothavong, Heather Watson, Laura Robson and I all fought our hearts out. Anne always had to play the first match, which is never easy, but she did a great job and her win against Patricia Mayr-Achleitner of Austria on the final day was especially gutsy.
Laura and Heather were brilliant in doubles and their win in the final rubber against Netherlands in our second match was absolutely massive for us. They were also a great cheer squad when they weren't playing, keeping us really pumped up by making up chants and banging rattles. They are both very happy, outgoing girls and they're really fun to be around.
Laura even stood up and did a rap at the official dinner because all the rookies had to do a little performance this time rather than a speech - then she did it again on court during an interview, with Heather as her back-up dancer!
This was definitely the most fun I've ever had in a Fed Cup week.
More importantly, though, both Heather and Laura are amazing players and, although they only played doubles this time, having four good singles players as well as a settled doubles team gives Judy loads of options. Hopefully both of them will be in the Fed Cup team for many years to come.
It's hard to pick an overall highlight but, of my own performances, beating Israeli number one Shahar Peer in front of her partisan home crowd to win that tie was a night I'll never forget.
Under the circumstances it was one of the best wins of my career and a massive relief for all of us. As soon as I went back to celebrate with Judy and the team I burst into tears - and managed to start Judy off as well.
The five of us said our goodbyes at Tel Aviv airport - all heading off to different parts of the world for tournaments - but I'm sure we were all already thinking about April and the chance to do it all again and finish the job we've started.