Novak Djokovic's younger brother Marko feeling the heat
Last updated on .From the section Tennis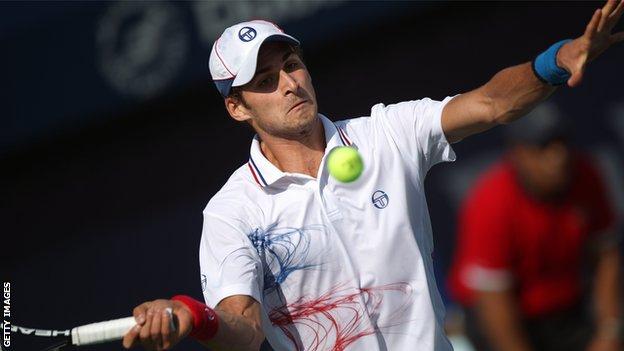 Novak Djokovic's younger brother admits it is tough following in the world number one's footsteps as he looks to forge his own successful tennis career.
Marko, ranked 868 places below the five-time Grand Slam winner, says his surname can be positive and negative.
"Everybody expects, which is really tough to achieve. But I'm trying. I'm doing my best," said the 20-year-old.
But Novak, 24, added: "I think he's going to be good. He has potential obviously and it's in the blood."
The younger Djokovic crashed out of the Dubai Championships against Kazakhstan's Andrey Golubev in a straight-sets first round defeat on Monday.
Marko, who did not play for 10 months last year after injuring his wrist, believes his opponents step up their game because of his illustrious name.
"They're trying more. I played qualifiers and futures and was coming back from the injury, and it was really tough. I had to fight for every point," he said.
"So this is the big difference when they play against me and then when I see them playing against somebody else."
Marko made his ATP World Tour debut in 2008 and reached his highest tour ranking of 628 in November 2010.
Older brother Novak has won 29 singles tournaments, including three Australian Open, one Wimbledon and one US Open titles, since his maiden tour victory in 2006.
But Marko added: "A brother like that is a privilege. He's helping me a lot.
"He knows a lot about tennis, and he's trying to push me to go more and more, to improve, to not make mistakes that he made in that stage of his life.
"There have been a lot of positive and negative things being his brother. It's a lot positive. Financially I have all I need and I can get all the coaches and all the practice.
"But negative things, there is a lot of pressure."
Novak watched his brother's match against Golubev before beating Germany's Cedrik-Marcel Stebe 6-4 6-2 in his first match since lifting the Australian Open title last month.
The Serbian star understands the difficulties facing his younger sibling but has backed him to succeed.
"He has to face this pressure in a way for having the Djokovic surname," he said.
"All over the world where he plays tennis, I guess he has to face this pressure that is not necessary for him at this age.
"It's his burden, and he's very committed. He wants to succeed in tennis. But everybody obviously has a different path. We have a younger brother who is 16 years old who is coming up, so hopefully they can become world-class players."