Andy Murray and brother Jamie edge 'Battle of Britain' doubles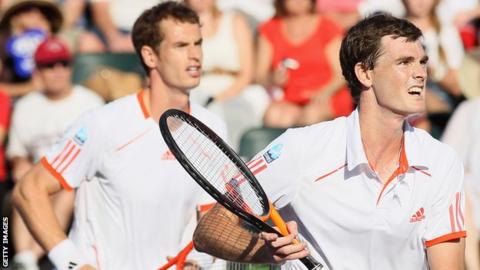 Andy and Jamie Murray saved two match points before beating fellow Britons Colin Fleming and Ross Hutchins 3-6 6-2 13-11 in the opening round of the Indian Wells Masters in California.
Billed as "Battle of Britain", the Scottish brothers edged past their opponents in the match tie-break.
Match points were played on the serve of all four players in a thrilling finale to an entertaining contest.
"We came up with some good play at the end," Jamie Murray told BBC Sport.
"[We played] some clutch volleying and Andy hit a couple of good returns which always helps."
Fleming and Hutchins came into the match as the newly crowned Delray Beach champions, their second ATP title together as a partnership.
After exchanging sets, the two pairs faced a first-to-10 tie-break, with the winner needing two clear points, to clinch their place in round two.
The Murrays had led 8-3 in the decider of a match played before a capacity crowd on Court 7.
But they lost six points in a row as Fleming and Hutchins, Britain's two highest-ranked doubles players, fought back to lead 9-8.
Younger brother Andy saved the first match point with a huge first serve and smiled with relief as he swigged from his water bottle at the changeover.
The brothers then had a match point at 10-9, saved by good work at the net by Hutchins, before the world number four netted a forehand from the back of the court to fall match point down once more.
The Murrays must have thought they had lost it when they dramatically clashed racquets when going for the same volley in the centre of the court.
But they recovered to win the point and moments later they added another to seal the match.
"We were up 8-3 and two minutes later we were match points down and in a battle," added the older Jamie Murray.
"I was pumped to win. It was a big match for me."
Andy Murray later revealed that a phone conversation with coach Ivan Lendl had helped him get over the disappointment of losing his opening singles match to Guillermo Garcia-Lopez on Saturday.
"I'm still disappointed. I had a long think last night and this morning," he said.
"I spoke to Ivan today which was really helpful.
"He's someone who hasn't been in that situation that often but understands it very well. He had some good advice for me."