Tax change may lure Rafael Nadal back to Queens
Last updated on .From the section Tennis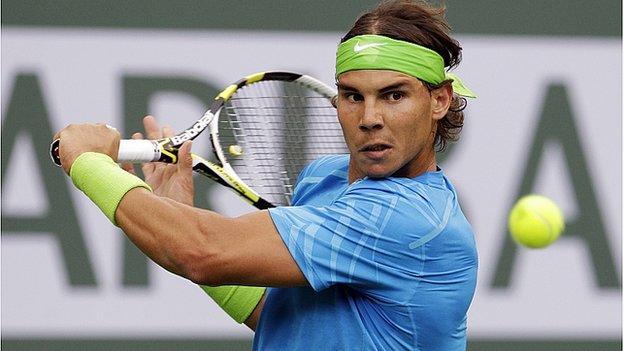 New tax rules announced in the Budget could make it easier for Britain to attract the world's top tennis stars.
But the Budget stated that training days will be taken into account when calculating the tax owed.
"I welcome the decision to include this in the Budget," said Lawn Tennis Association chief Roger Draper.
"I am pleased that the Government, like us, recognises that the existing rules on endorsement tax pose a serious risk to the status and growth of our major sporting events.
"We will study this change in more detail, but I would like to thank the Government, and particularly the Sports Minister, Hugh Robertson MP, and David Gauke MP, Treasury Minister, for taking the time to listen to our concerns, and also the All England Lawn Tennis Club and the ATP for working with us to find a resolution."
British number one Andy Murray is the only member of the top four who will play at Wimbledon warm-up event Queen's this year.
When announcing in October that he would not play at Queen's, 2008 winner Nadal said: "The truth is, in the UK you have a big regime for tax. It's not about the money for playing.
"They take from the sponsors, from Babolat, from Nike and from my watches. This is very difficult. I am playing in the UK and losing money.
"I did a lot more for the last four years, but it is more and more difficult to play in the UK."
The amendment could also boost organisers of the ATP World Tour Finals. London's O2 arena is hoping to hang on to the tournament for another five years when the contract ends next year.